Lambeth Site Allocation Development Plans - Draft (SADPD for short)
Update as at 29 March 2022:
We made representations to the Leader of Lambeth Council for sites 18 & 19 to be withdrawn from the SADPD. You can read our reasons in our original representations below. We wanted clarity on the timescale for considering the feedback received on the 14 sites across the borough.   
We asked the Leader to make an urgent public statement on the timetable and process going forward, and suggested that given the weight of objections made against sites 18 & 19, Cabinet (21 March 2022) be asked to approve their withdrawal from the SADPD to enable consultation to find a better solution to develop the sites. 
The Leader of the Council advised that the SADPD process will proceed unamended, that our ward councillors will be fully involved in the discussions about the future of sites 18 & 19, and that there will be further public consultation on these sites. The published timescale for the next stage in the SADPD process is:
"Pre-submission publication of the SADPD Proposed Submission Version (Regulations 19 and 20): Winter 2022/23 "
In the meantime one developer, Woolbro Homes, is currently in discussion with the Council to redevelop part of site 18: 1-5 Waylett Place. You can read more about their plans 
here
.
Representations
You can read the Norwood Forum full representations on sites 18 & 19 
here
. These were sent before the Council deadline of 22 February 2022 (11pm).
Also our Knights Hill Ward Councillors: Jackie Meldrum, Jane Pickard and Sonia Winifred made separate representations on
Site 18
and
Site 19
.
Our MP Helen Hayes has asked the Council to withdraw site 18 so as to allow collaborative co-design, and made representations against tall buildings at site 19. You can read Helen's statement here.  
You can read further representations:
What next?
We are very concerned there is no clarity around what will happen next, so we have written to the Leader of the Council: Councillor Claire Holland to ask urgently for clarity on the time scale and processes in place to respond to our community response. From viewing the Commonplace site there is extensive opposition to both Sites 18 & 19 proposals, and this is also clear from the meetings, representations, social media, conversations and other feedback we have received from local businesses and residents. The Commonplace site alone accounted for more opposition to Sites 18 & 19 than all the other Sites put together. 
 
---
What is the Draft SADPD?
Lambeth Planning is consulting on 14 development sites across Lambeth, with two in West Norwood: 'Site 18' - which is the area between Lansdowne Hill and York Hill and is proposed to include an approx. 11 storey tower block, and 'Site 19', the triangle of industrial land off Knollys Road between the railway lines where three tower blocks are proposed - the highest approx. 22 storeys. This 'Plan', if agreed, will provide guidance for developers making planning applications - and MUST BE STOPPED.
Why? Because the community has not been properly consulted. This community driven campaign is not against development - we desperately need local housing for local people and the derelict land behind Texaco must be put to good use - but not like this - and not without involving the community.
Read on for more information: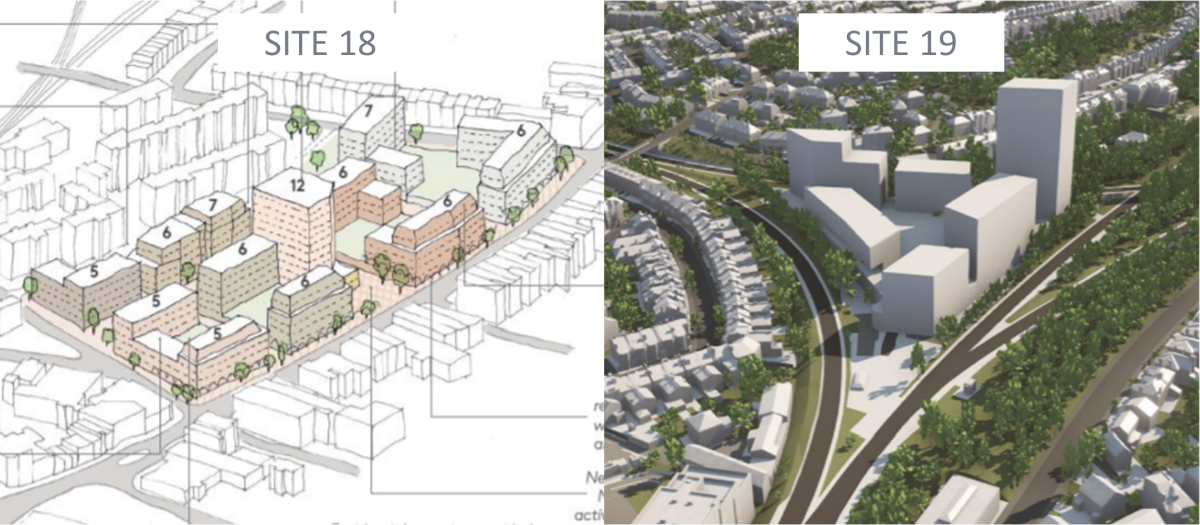 How you can object to these development plans
#ConsultTheCommunity
Two things the Stakeholder Group urges you to do:
1: Email sadpd@lambeth.gov.uk to demand the removal of Site 18 and Site 19 from this consultation - reasons below
2: Email sadpd@lambeth.gov.uk with your comments on the proposals for Site 18 and Site 19 - suggestions you might use are also below
Deadline to comment
11pm on 22 February 2022
Group of Residents?
If you want support to put together a group submission, please get in touch asap here
Who are the Stakeholders?
Norwood Forum, Norwood Planning Assembly, Station to Station BID, Norwood Action Group and and local Knights Hill and Thurlow Park Councillors.
1: Why the Stakeholder group believes the two sites must be removed from the current consultation
The group have been 'briefed' by Lambeth Council's Development Team in a one hour meeting and that is all the public engagement that Lambeth are prepared to do.
See here the presentation that Lambeth showed the Stakeholder group at this briefing meeting, and next the questions we asked in advance of that meeting - with Lambeth's responses that were provided afterwards.
We do not consider this sufficient for such radical proposals for our neighbourhood.
We shall be campaigning vigorously to have Site 18 and Site 19 removed from this Draft for the following reasons:
Unlike the other 12 sites, Site 18 and 19 are major developments that will profoundly impact the retail and residential heart of West Norwood and Tulse Hill – one of the five town centres recognised by Lambeth.
No other Lambeth town centre is to be affected in the same way by these development plans, so we believe that the consultation process must also be treated differently to reflect this.
There has been insufficient time to adequately engage the community in understanding the proposals and their long term impact
This current approach ignores all the good practice community consultation that has previously happened, and the recognised capacity of local community organisations to deliver that level of consultation. As the 2017 Masterplan: Moving Forward: A Collaborative Approach to Delivery, describes:
It is vital that principles of collective action, collaboration and partnership are at the heart of efforts to work towards agreed objectives and aspirations for the area. The strength and willingness to engage of the West Norwood and Tulse Hill community has been instrumental in delivering numerous successes for the area in recent years. The area is also home to a high number of organisations which have the capacity and expertise to take a lead in aspects of delivery, and which have also stated their desire and commitment to being part of future delivery.
A positive way forward
There is an established community volunteer led Neighbourhood Planning Assembly who are writing a Neighbourhood Plan. This forum should be used to develop genuinely collaborative and community driven proposals for these two sites.
2: Suggested comments - but please use your own words so every comment is different
We strongly recommend using email (as well as Lambeth's Commonplace - details below).
We believe that individual emails - each raising a single point - will be more effective.
Please get involved.
We are not commenting on detailed planning applications so issues of construction traffic, business disruption compensation, etc, whilst relevant in the longer term, are not quite so important now.
The exception to this is the proposed new access to Site 19. The dubious financial viability of Site 19 also comes with the risk that developers could argue away the affordable housing allocation.
We can be emotional – talk about the substantial change this will bring to our neighbourhood and our way of life – the change to the heart of our community.
We don't want to see a swath of 'developer architecture', but an ambitious incremental development with the community as an equal partner in an exemplary approach to town centre redesign.
We believe that incremental development (within an outline Master Plan) is the only way forward as it enables the development to reflect change in the way we live our lives.
Nothing in these proposals reflects the changes that Covid-19 has brought to every aspect of our lives.
We expect world class urban design that recognises West Norwood as an existing viable, successful, neighbourhood with an enviable strong sense of community.
We welcome investment that sees the community as a partner.
Our 'high street' of independent retailers, with low vacancy rates, has proven resilience backed up by statistics.
Local businesses have emerged strongly out of the pandemic and this delicate balance requires sensitivity not broad brush stroke development.
We recognise the desperate need for new, mixed accommodation for local people at affordable rents – but not at any cost. We want to see local homes for local people – designed in collaboration with local people.
We expect ambitious environmental credentials for any development. 
We have a strong identity that blends independent business with residential accommodation in heart of our community. We have reached this enviable position organically and nothing in these development proposals puts sufficient value on the sense of place that already exists. 
These proposals do not provide adequate provision for our existing 'dirty' businesses - e.g. scaffolding companies and car repair workshops. These are essential parts of our local ecosystem that make Norwood a 15min Neighbourhood. 
B&Q is an anchor store in West Norwood, another reason we can call ourselves a 15min Neighbourhood, we can see no specific proposals to retain this important business along with its essential parking - that is also an important asset for the rest of the shopping area.
Exemplars:
Norwich Council housing development
Barking and Dagenham artists development
More background in our News story here
How you can comment:
Views will need to be submitted by by 11pm on 22 February 2022.
You can comment in the following ways:
Commonplace Site 18
Commonplace Site 19
Email: sadpd@lambeth.gov.uk
Post: Lambeth Council, Planning Policy and Strategy, PO Box 734, Winchester, SO23 5DG
We highly recommend email.
Read all the comments on Commonplace
Follow the Conversation Proposed Site 18 – Commonplace
Follow the Conversation Proposed Site 19 – Commonplace
And this story on what a 'Like' actually means
The number of 'Agreements' is not the number of people agreeing with the proposals, but the number of people agreeing with the comments - some for, some against.
Whats next?
Please comment!
The Stakeholders are organising a community response - talking to residents groups, local faith groups etc.
If we haven't talked to your group - please get in touch! info@norwoodforum.org
The Stakeholders will also be making our own individual responses.
News regularly posted on Facebook: Norwood Forum, West Norwood Local and Tulse Hill Forum