#ConsultTheCommunity
The Stakeholders: Norwood Forum, Norwood Planning Assembly, Station to Station BID, Norwood Action Group and Local Councillors have been 'briefed' by Lambeth Council's Development Team in a one hour meeting and that is all the public engagement that Lambeth are prepared to do. We do not consider this sufficient for such radical proposals for our neighbourhood. We shall be campaigning vigorously to have Site 18 and Site 19 removed from this Draft. 
Read on for the full story and find out how to get involved - with suggestions on what to say here
Group of Residents?
If you support to put together a group submission, please get in touch asap here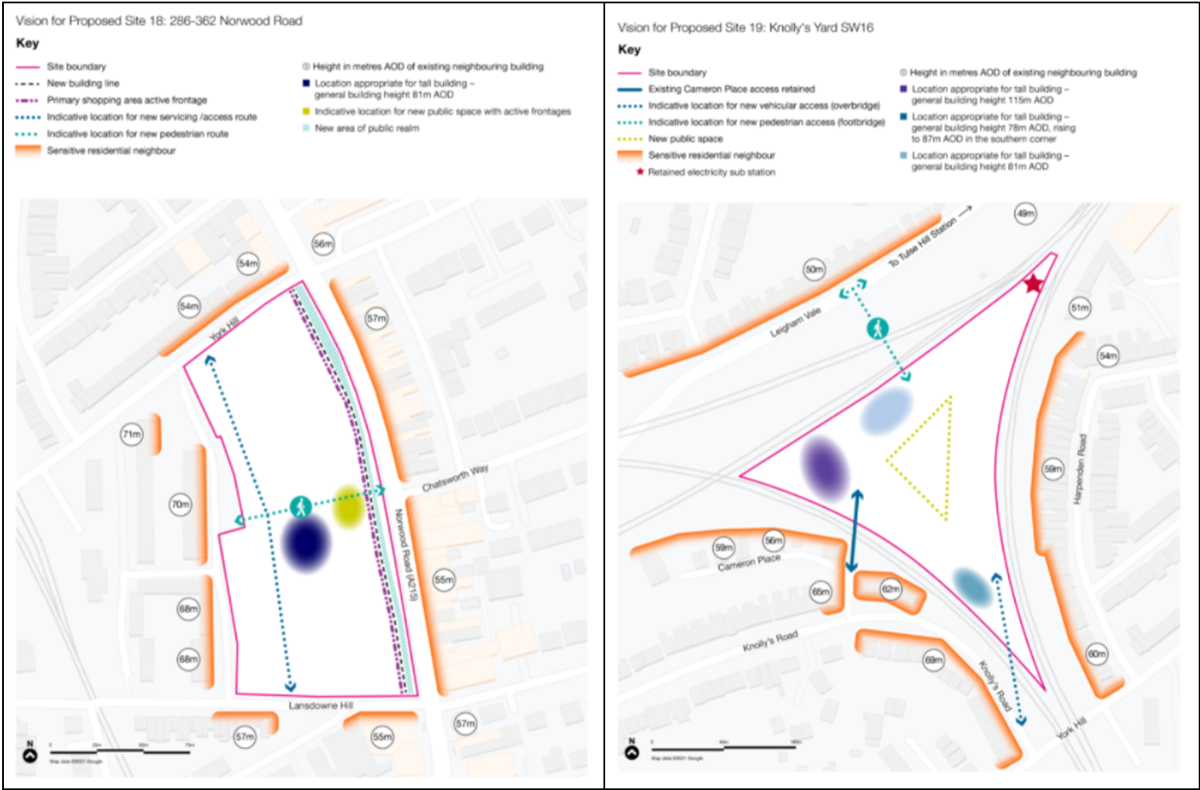 Lambeth Planning is consulting on 14 development sites across Lambeth, with two in West Norwood: 'Site 18' - which is the area between Lansdowne Hill and York Hill and is proposed to include an approx. 11 storey tower block, and 'Site 19', the triangle of industrial land off Knollys Road between the railway lines where three tower blocks are proposed - the highest approx. 22 storeys.
We have been given just six weeks to comment on plans for these two local sites that, if they were ever built, would have a huge impact on Tulse Hill and West Norwood town centres. These developments would change forever the nature of our neighbourhood. Lambeth says the sites are expected to come forward within the 15-year plan period of the Lambeth Local Plan 2021. The deadline to comment is now fast approaching - 11pm 22 February 2022.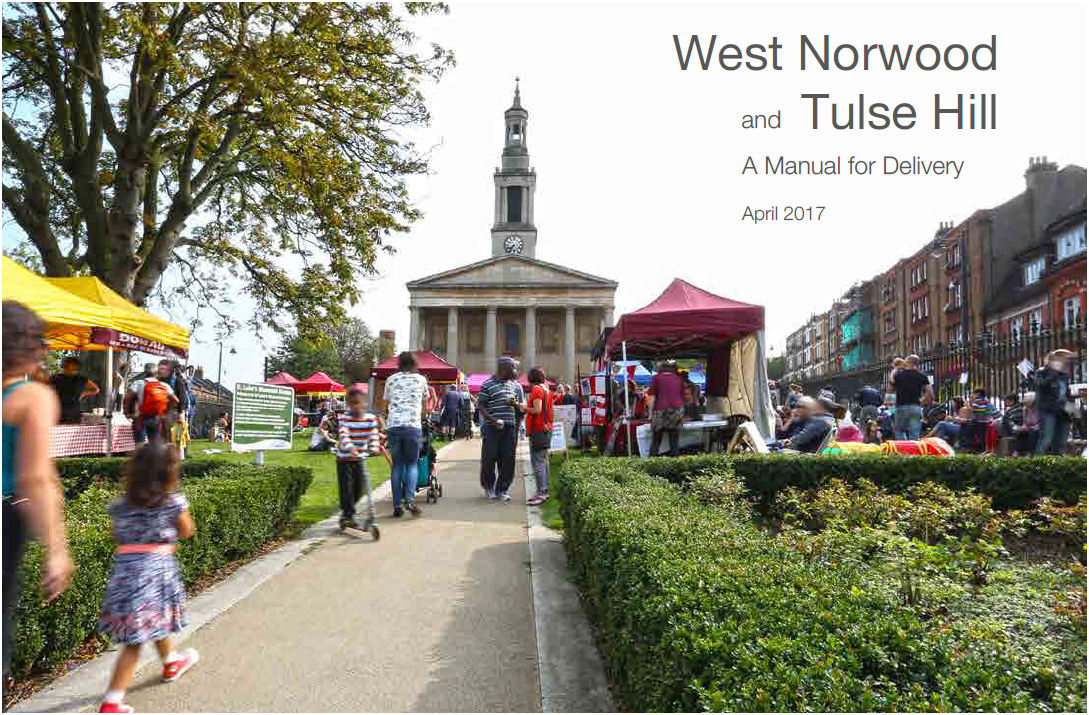 Whatever happened to these fine words from Lambeth Council?
'2017 Masterplan: Moving Forward: A Collaborative Approach to Delivery
It is vital that principles of collective action, collaboration and partnership are at the heart of efforts to work towards agreed objectives and aspirations for the area. The strength and willingness to engage of the West Norwood and Tulse Hill community has been instrumental in delivering numerous successes for the area in recent years. The area is also home to a high number of organisations which have the capacity and expertise to take a lead in aspects of delivery, and which have also stated their desire and commitment to being part of future delivery.'
Or even the outcome of this consultation in 2018
Where has all that good engagement practice gone?  Covid-19 has radically altered everyone's lives and the needs of a community can only be realistically assessed through a programme of in-depth consultation.
A stakeholder group comprising Norwood Forum, Station to Station BID, Norwood Planning Assembly, Norwood Action Group and local Councillors is meeting regularly. We are working hard to engage with Lambeth on these proposals and produce a community response.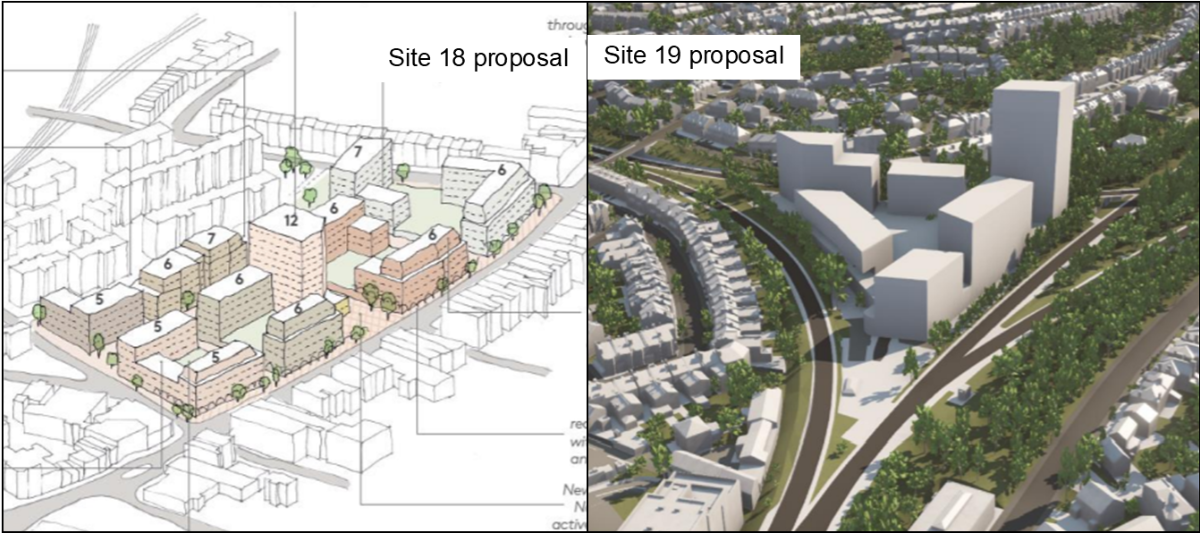 These are our current key issues of concern:
ignoring all the consultation that has gone before
lack of new consultation - especially to take into account the impact of Covid-19 on how we live our lives
the scale and visual impact of the proposed tower blocks
the loss of character and sense of place
lack of ambition - environmental, architectural and use (what about this project built in Barking and Dagenham?)
pressure on services and infrastructure
where realistically do our local 'dirty' businesses move to - the scaffolders, the car repair garages?
affordable housing allocation
access to Site 19.
What next?
The Stakeholders are preparing a joint response and will also be commenting as individual organisations as well. We strongly encourage everyone to make their own comments.
Please get involved.
How you can comment:
Views will need to be submitted by by 11pm on 22 February 2022. You can comment in the following ways:
Commonplace 
Site 18
Commonplace 
Site 19
Email: 
sadpd@lambeth.gov.uk
Post: Lambeth Council, Planning Policy and Strategy, PO Box 734, Winchester, SO23 5DG.
We highly recommend email.