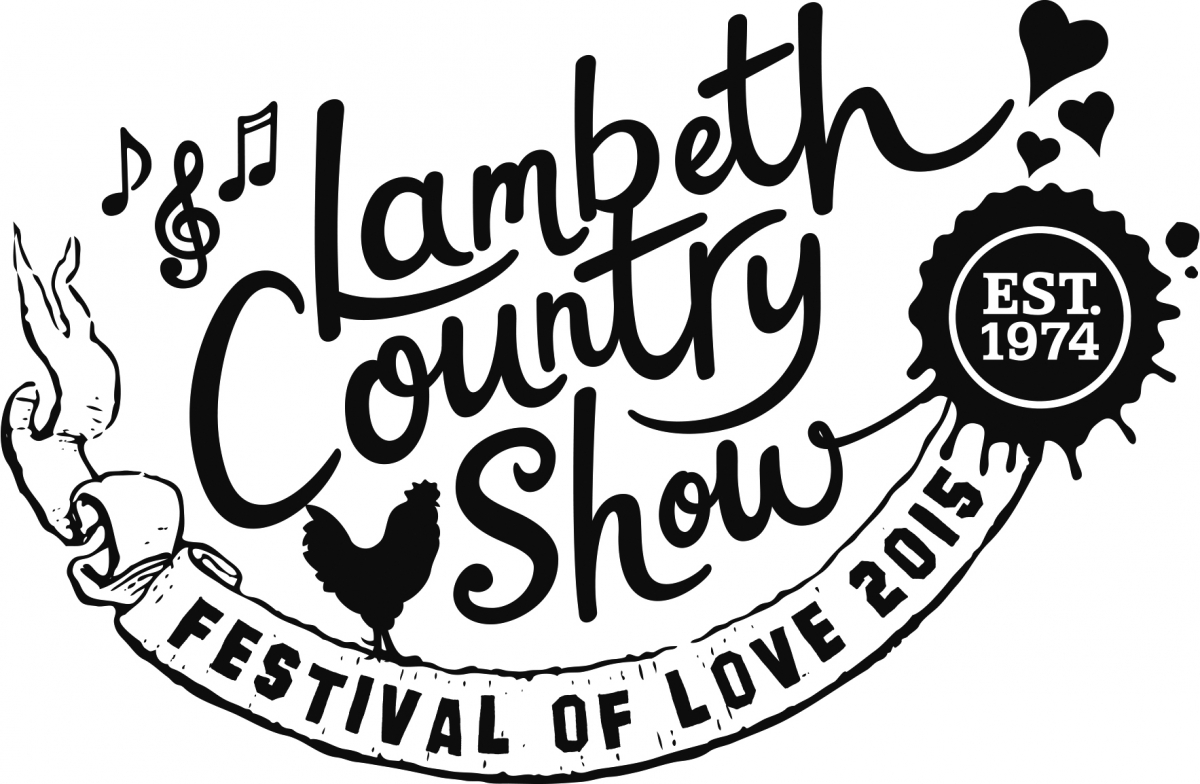 Network Norwood is delighted to be taking part in this year's Virtual Lambeth Country Show with our #StayHomeSupper project.

Revisit the tastiness of the Bean Chilli and Veg Curry recipes (or make them for the first time!) and follow Virtual Lambeth Country Show for more on this and all the other terrific activities over the weekend of 18 and 19 July: www.facebook.com/lambethcountryshow/
You can view our Chilli and Curry cooking demo recipes on our YouTube channel here, and click on the recipes below to download. Remember to share your photos on line: #Supper #Chilli #NetworkNorwood #InstaFood #Community #LCS20 #LCSintheHouse #LambethCountryShow #Lambeth #HerneHill #Brixton #TulseHill
Follow Network Norwood on Facebook: www.facebook.com/NetworkNorwood
---
#StayHomeSundaySupper
Sunday 7 June 2020
Whilst we still cannot meet in large groups and visiting cafes and pubs remains out of bounds, Network Norwood is running a second #StayHomeSundaySupper and everyone is invited to take part.
We encourage you to Shop Local using our supporter Station to Station's directory on who is open and/or doing deliveries and take-aways: stationtostation.london/directory/ No need to even cook with our terrific range of Indian restaurants!
Please follow us on our new Facebook page @NetworkNorwood.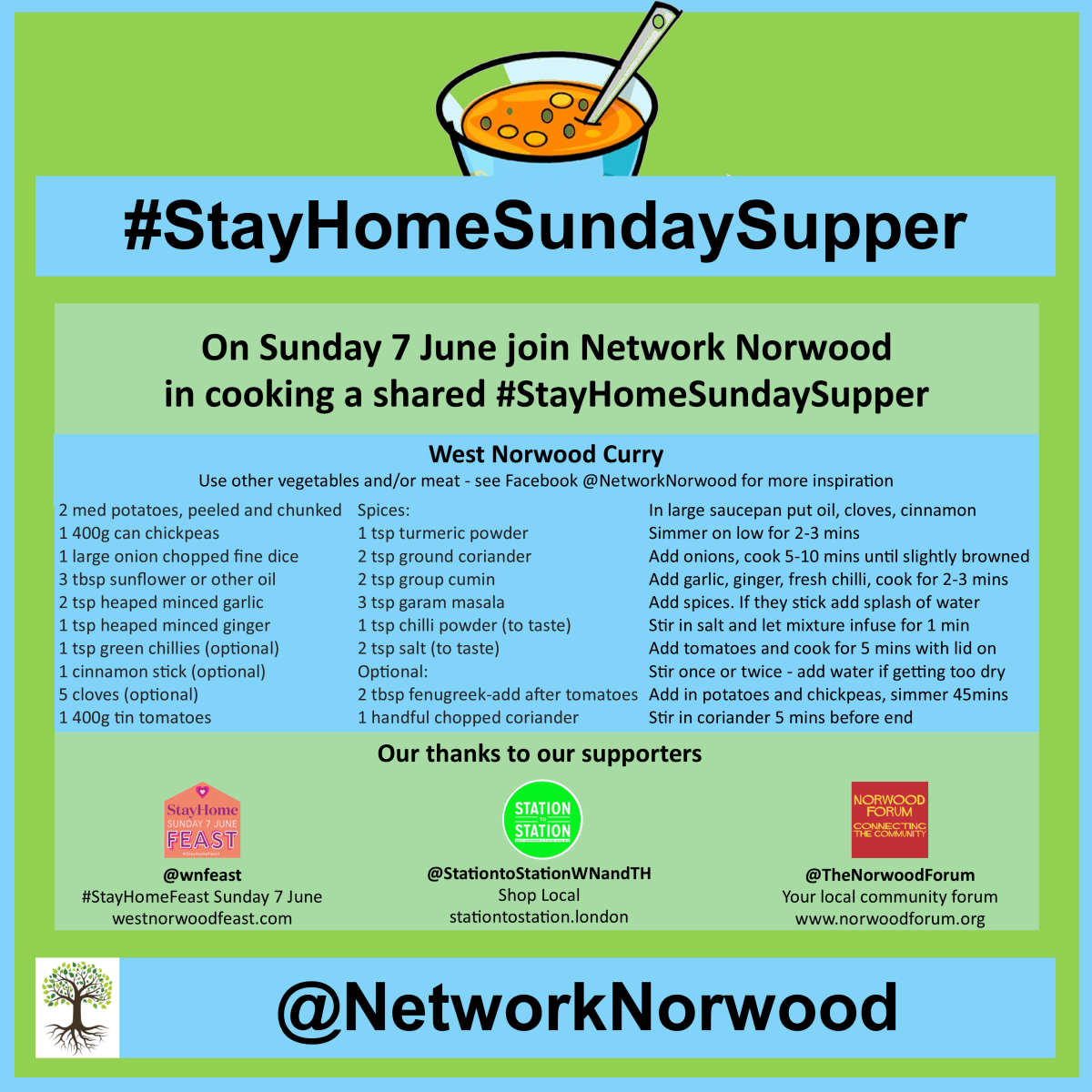 ---
#StayHomeSundaySupper
West Norwood Eats Together
Sunday 3 May 2020
Due to the current situation with Coronavirus, Network Norwood cannot run our usual activities, but with the support of Norwood Forum and West Norwood Feast, we are staging our very first community event: #StayHomeSundaySupper.
Click on the images below to find out how to take part yourself, which Shop Local shops are #SupperSupporters - and how to order a take-away so you dont even have to cook! 
---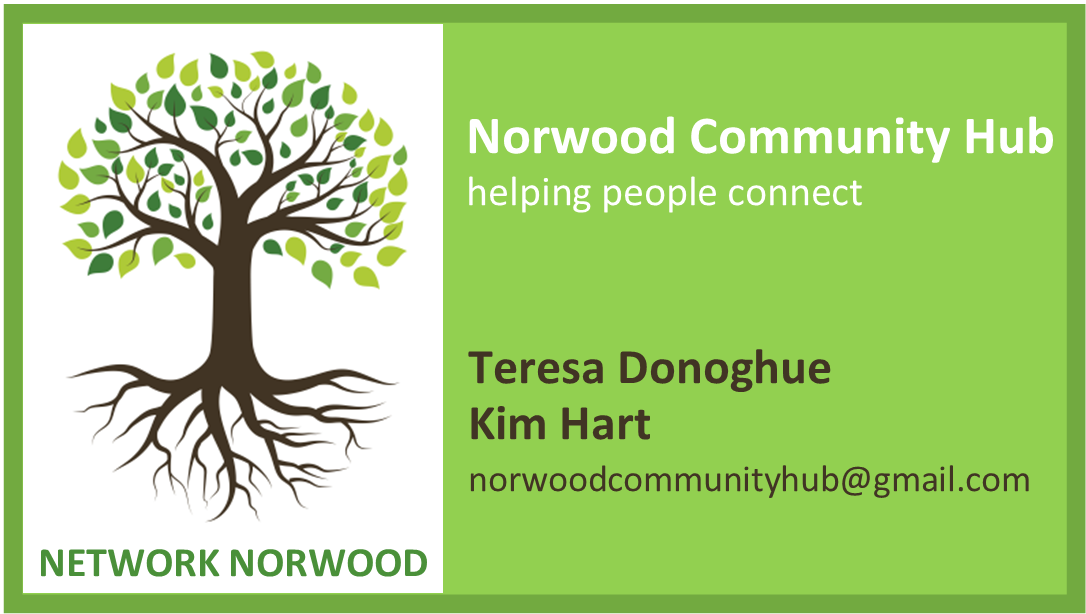 What is Network Norwood?
Network Norwood is a new health and wellbeing social enterprise created by Teresa Donoghue and Kim Hart.
What we do
As a Community Hub, Network Norwood's aim is to help people connect in the real world by improving accessibility to community events, activities and services. Community life and having a voice in local decisions are all factors that make a vital contribution to our health and wellbeing and we believe that a person's social network is important too.
How we do it
A drop-in shop which is open every Wednesday at Portico Kitchen for members of the community to pick up information, ask questions and find out more about what's available locally. 
Regular outreach activities to raise awareness, make connections, and support participation, especially for less connected residents. Our extensive local knowledge and connections enable us to provide a holistic approach to identifying local activities and services to meet individual needs.
---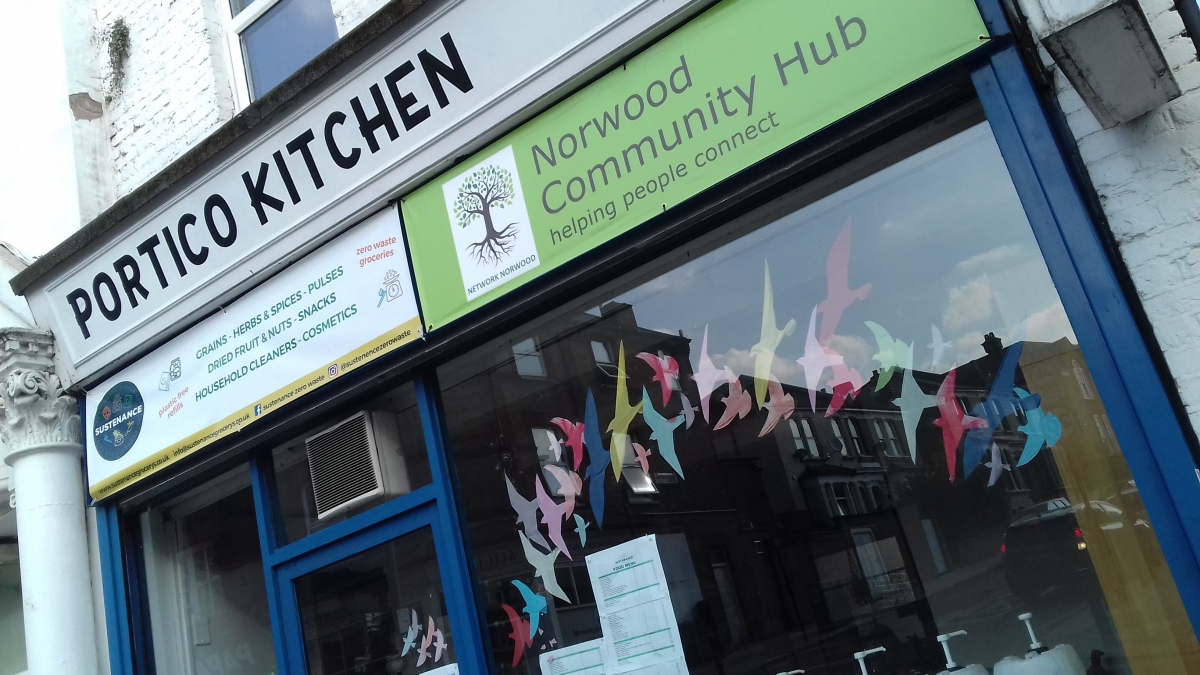 Do you live in Norwood?
Our Community Hub at Portico Kitchen is designed to be a physical presence for all the many local organisations who exist predominantly online. It is hard to know what's going on if you don't have internet access or are not confident in using it. Even if you are, it's not always easy to search for something you don't know is happening.
If you are interested in finding out more, please pop in and see us on Wednesday afternoons between 1pm and 6pm. Or to arrange another time to meet up, please email us on: norwoodcommunityhub@gmail.com
Are you involved in community work?
Partnerships are vital to our work and it would be good to meet up to discuss ways in which we might work together, including to:
Publicise your events to the wider community
Refer people to your activities
Find opportunities to work together
Connect you with other organisations
Share information with you about other local events and activities.
---
Teresa Donoghue & Kim Hart
norwoodcommunityhub@gmail.com
Teresa and Kim are experts in community engagement. They are both Project Smith Community Connectors, alumni of the School for Social Entrepreneurs, and work extensively across the volunteer sector in Norwood, with 40 years combined local experience.
Teresa is the new Coordinator for West Norwood Feast as well as Hub Leader and Young Volunteer Coordinator. She is also a Lambeth Street Champion. Kim is a Cultural Consultant specialising in community engagement, and Vice Chair of Norwood Forum leading on community creativity. She organised the new inclusive winter community festival Wild-Norwood Window Wanderland in 2019, which will now be an annual event.