SUPPORT - for you, your family, a friend, relative, neighbour or anyone that you know
HELP - how you can volunteer or help in other ways
The Covid-19 lockdown has amplified existing inequalities across the UK, and people who remain unconnected to the digital world are being left behind. This section provides information, support and signposting about access to the internet and equipment such as laptops, including:
SUPPORT
1: If you need advice on how to get connected to the internet/broadband. If you or a family member need equipment such as a laptop, for instance so that you can work from home, or so your child can do their school work.
HELP
2: If you want to provide help with donations of money or equipment such as laptops to those in our community, such as school children, who need a laptop to do their school work.
---
SUPPORT
Equipment: Latest Government Advice on provision of Free Laptops and Tablets to Schools
Click on the image below to enlarge: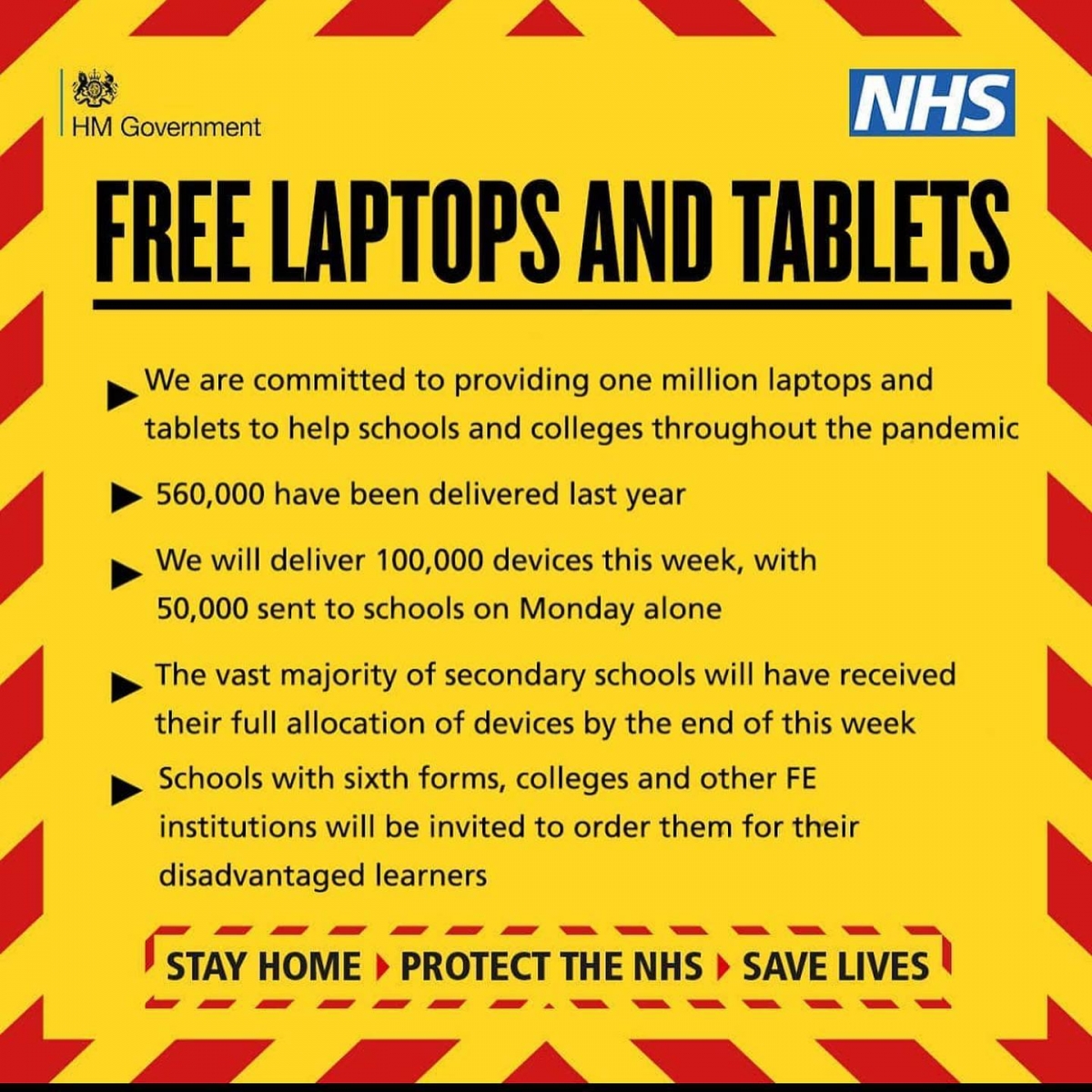 Equipment: Are you a School, Local Authority or other Education Establishment?
The National Grid for Learning: Brige the Gap
A scheme for schools, Local Authorities and other education establishments to purchase well priced equipment such as laptops, find out how here.
Internet Access/Broadband: Latest Government Advice for Parents of School Age Children
Click on the image below to enlarge: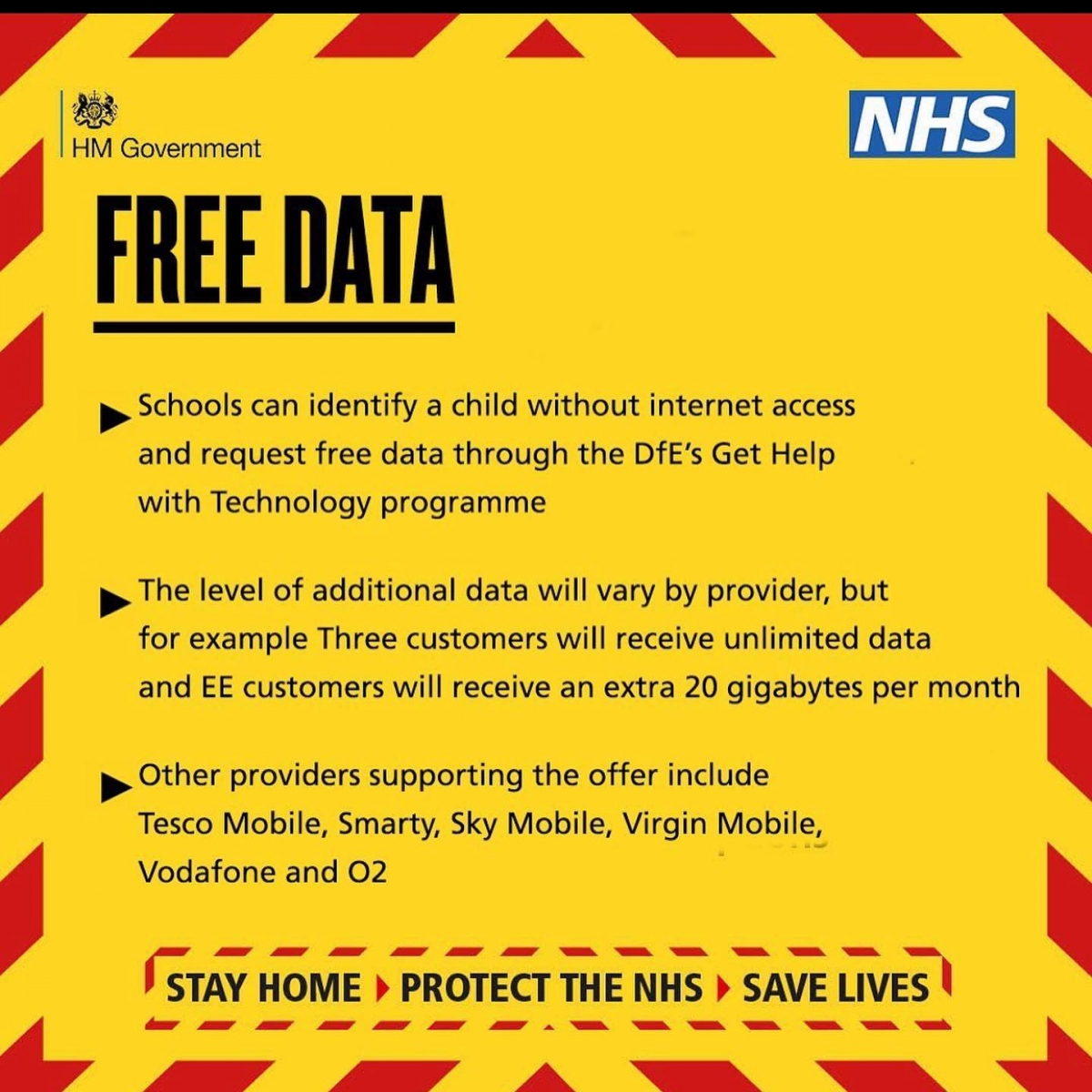 Internet Access/Broadband: Useful list of options
If you are in receipt of benefits
www.gocompare.com/broadband/benefits/
If you want to compare current deals:
www.gocompare.com/broadband/
Phone/Internet Access/Broadband: BT Basic + Broadband
BT Basic and BT Basic + Broadband are simple, low cost services that help you get connected if you are on specific low income Government benefits.
You must be getting one of these benefits and be the named account holder to apply:
Income Support
Income-based Jobseeker's Allowance
Pensions Credit (Guaranteed Credit)
Employment and Support Allowance (Income related)
Universal Credit (and are on zero earnings).
Find out all the details here
And this Comparison Website has a really clear explanation
---
HELP
How to donate unused equipment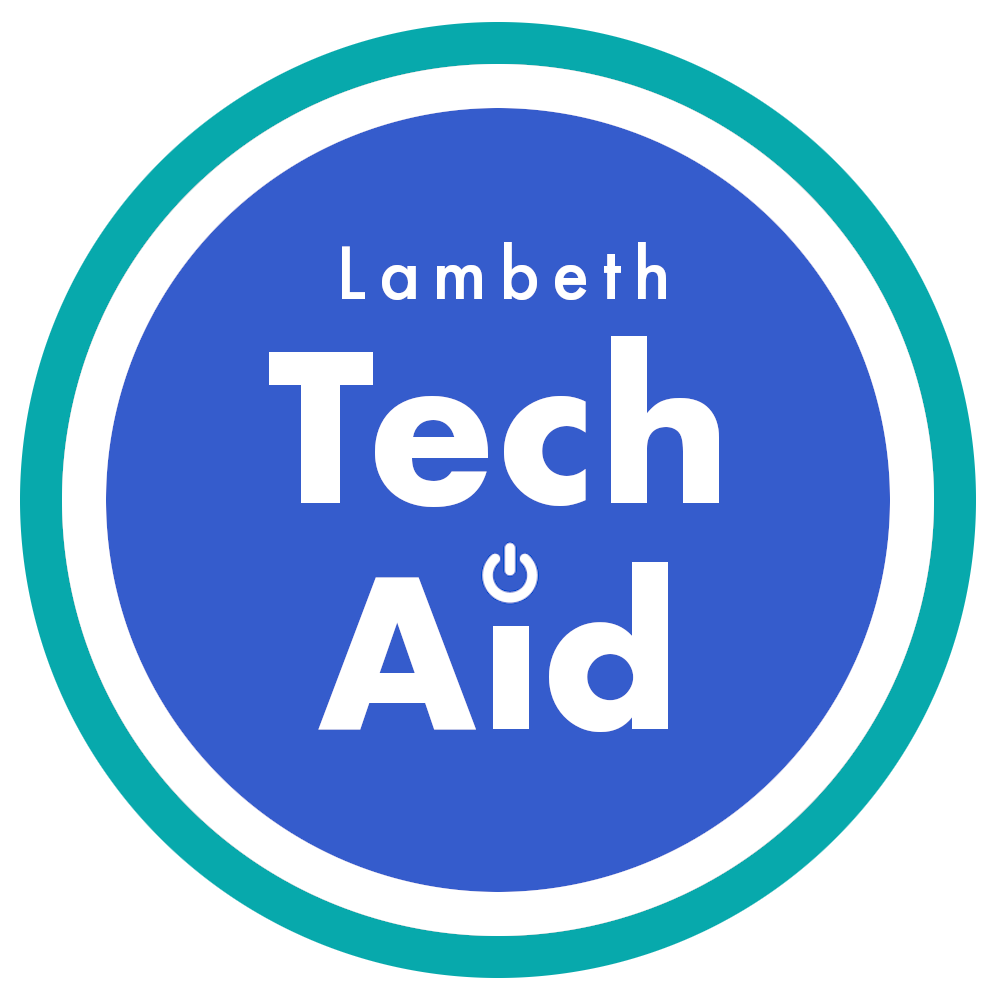 Lambeth TechAid
Lambeth TechAid works to bring internet access to households who need it, via Lambeth Schools and local community organisations in a time when having access to the internet has become essential. Recognising that many everyday tasks and services have become accessible exclusively through online platforms, Lambeth TechAid aims to bridge the digital divide. 
They take in donated devices, wipe them and and deliver them to people in need, identified through local schools, refugee organisations and other community groups.
They are in need of donations to continue supporting those who need it most. If you have an old tech device that you no longer need, perhaps an old laptop or tablet, please fill in a simple online donation form and they'll do the rest!
Follow this link to find out how to donate
Lambeth TechAid is a completely volunteer run organisation and was set up in mid-March as a community response to the Covid-19 lockdown. They are supported by Streatham MP Bell Ribeiro-Addy and InStreatham Business Improvement District (Streatham BID).  
More information on donating:
Lambeth TechAid accepts most devices, even those that are slow or several years old:
Laptops

Smartphones
​

Tablets

All-in-one desktop computers (these have the hard drive built into the monitor rather than housed in a separate black box or "tower")
Spare mobile or tablet chargers, mice, keyboards, laptop power converters and power supply leads, headphones, earphones, cases for mobiles and tablets and laptops.
Unfortunately TechAid do not currently have the capacity to repair broken screens.
After you donate your tech, they will ensure all data is fully wiped from it by their volunteer tech experts before it is given to someone in need. 
If you are still not sure, complete an online donation form and they will assess your device.
You can follow them on Twitter: @LambethTechAid and on Facebook: search for Lambeth-TechAid 
Tech Dropoff Point
With the help of Station to Station, our local BID, we now have a convenient drop-off point where you can leave your donated tech. Our thanks to Rajith from Mobile 2 Buy at 354 Norwood Road - easy to find, right besides Iceland, Rajith will take all your unwanted tech off your hands and keep it safe for Lambeth TechAid to collect.
How to donate money to purchase equipment
Lambeth Citizens: Digital Divide: Bridging Education Inequalities in Lambeth
Lambeth Citizens is a member of Citizens UK. Citizens UK organises communities to act together for power, social justice and the common good. They develop the leadership capacity of their members so they can hold politicians and other decision-makers to account on the issues that matter to them.
Lambeth Citizens are running a Crowdfunder campaign, which is supported by Lambeth Council, to raise funds: 'to get devices to young people in our communities that would otherwise be left behind'.
Find out how to donate here