We are pleased to confirm that Helen Hayes MP for Dulwich and West Norwood will once again be the guest speaker at our AGM. With the #ScrapTheYard campaign against Southwark Metals plans for Windsor Grove, and the proposals for new Parliamentary Constituencies, we are sure we will have an interesting discussion. Further speakers may be added over the next few days.
As the government decided to delay the lifting of Covid-19 restrictions, our AGM will now be held online (see details below).
Our AGM is where we review our activities over the past year (see annual report below) and agree our Committee members and officers for the forthcoming year.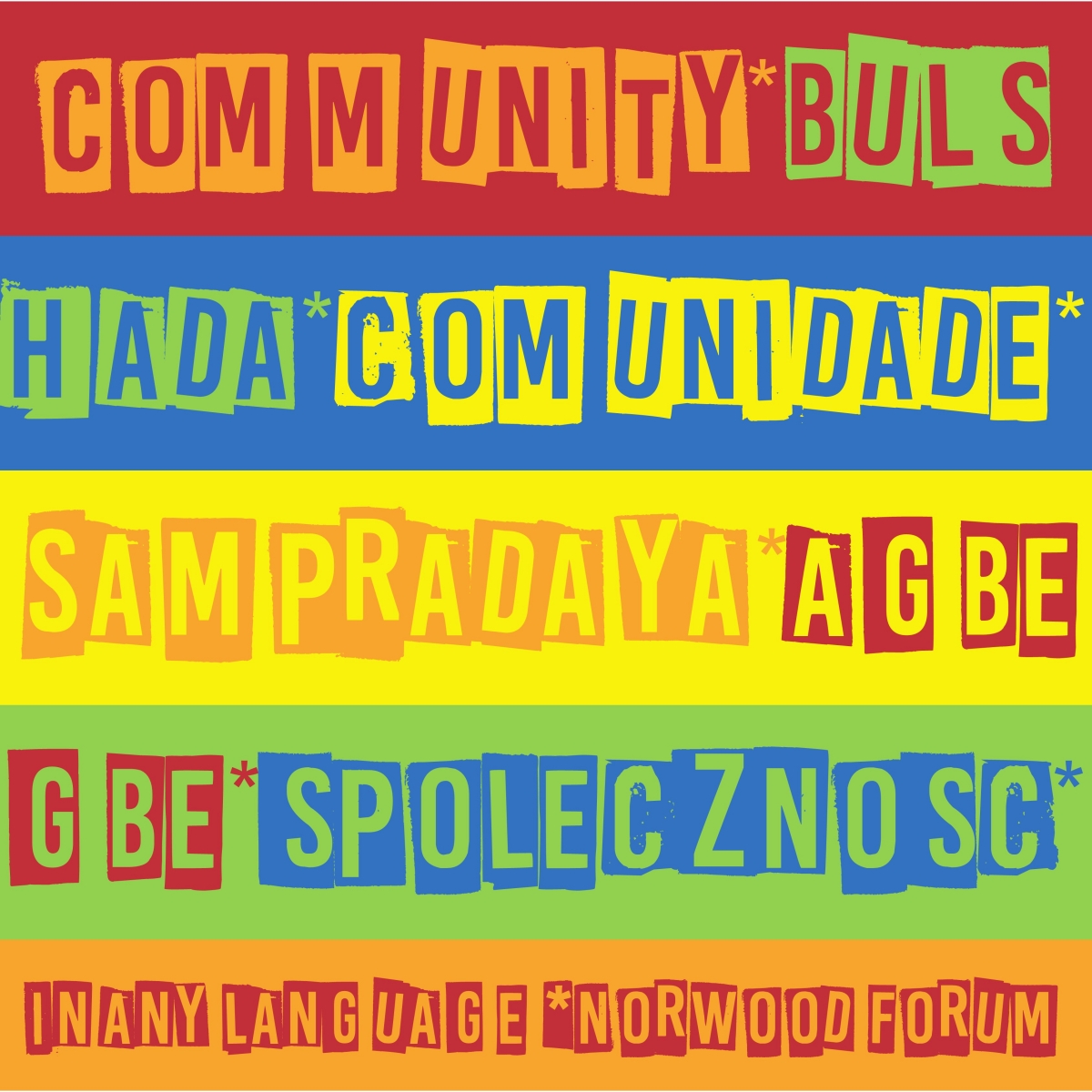 Norwood Forum: Community - in any language
Your community needs you - whether your interest is in sustainability, the arts, comms, politics, the built environment, engagement, young people.
Do you have green fingers? A terrific way with a spread sheet? Are you interested in the lastest Health and Wellbeing initiatives?
Have you got 5mins to spare once a month, or looking to spend a regular afternoon helping a community project move forward.
All this and much, much more is all yours with Norwood Forum.
Intrigued? Get in touch here.
Volunteering with Norwood Forum is also a real opportunity to learn and develop new skills, or use and hone existing ones (e.g. organising meetings, presentation skills, writing articles, social media, website administration, project management). Whether you have never volunteered before, have loads of experience or only recently begun helping your neighbours during Covid-19 and would like to do some more – we are interested in your fresh ideas, perspectives and skills. 
And if you want to take the step and join the committee right now - here are the papers:
The provisional agenda for the AGM is:
Welcomes, Introductions and Apologies
Special Guest: Helen Hayes MP
Election of Norwood Forum officers and committee members (details will be available at the meeting)
The 2020-21 Committee members:
Chair: Sunil de Sayrah (until 31.03.21)
Vice-Chair: Kim Hart (Acting Chair from 01.04.21)
Treasurer: Noshir Patel
Secretary: Vacant
Ordinary Committee Members (up to 11):
     Ibtisam Adem
     Anne Crane
     James Davis
     Jane East (from 24.03.21)
     Su McLaughlin
     Gloria Orosungunleka
     Philip Virgo
When: Saturday 3 July 2021 (12:30pm-1:45pm). Any queries? Please get in touch.
Where: The Norwood Forum Facebook page
Kim Hart, Acting Chair, Norwood Forum, 11 June 2021 (updated 25 June 2021)
Draft AGM minutes are here (published 6 July 2021)