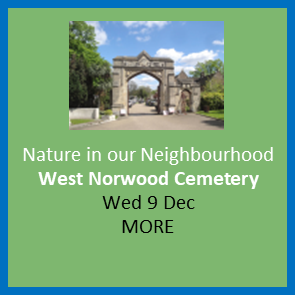 Today our Nature in our Neighbourhood focus is on West Norwood Cemetery. Even if you are familiar with the cemetery and its precious green space right in our midst, there is a lot more going on than you might be aware of ... but let's start with a little bit of history:
West Norwood Cemetery opened in 1837 as one of the Magnificent Seven private cemeteries built to alleviate overcrowding in existing London parish burial grounds. In the first 50 years of the 19th century the population of London more than doubled from 1 million to 2.3 million. Today the Cemetery is owned by Lambeth Council and remains a working cemetery (but currently there is no new space for burials) and crematorium.
The Cemetery is generally open to the public during daylight hours, but has been shut during lockdown. Best to check here on the Council website.
Green open space
In addition to is funerally role, West Norwood Cemetery represents an important green open space, wildlife habitat and place of reflection for many local people and grave owners. The Cemetery is a valuable haven for various fauna; foxes, bats, stag beetles, and 35 species of birds including woodpeckers and tawny owls living amongst veteran oak and lime trees. The Cemetery also has Green Flag status.
Mature trees include a number from the ancient Great North Wood – predating the Cemetery by hundreds of years.  One line of 13 oaks (with various estimated dates between 1540-1640 and 1677-1711) forms a medieval boundary north - south across the highest point of the Cemetery. Four other trees (three oaks and one Field Maple) pre-date the cemetery. There are other valuable trees, plants and grasslands.
Monuments and the Heritage Lottery Fund works
There are 65 monuments within the cemetery that are Listed Grade II or Grade II*, 21 of which are on the Historic England 'Heritage at Risk' register. The Entrance Arch, boundary walls and railings, and the Catacombs beneath the site of the former Episcopal Chapel are also listed Grade II.
A partnership of Lambeth Council and the Friends of West Norwood Cemetery successfully applied for National Lottery funding (£4.5m), awarded jointly by the Heritage Lottery Fund (HLF) and the Big Lottery Fund. With £2.1m from the Council and Friends, the total investment is £6.7m. The 'New Beginning' vision for the project is to achieve a balance between burials and bereavement, expanded community uses, nature and landscape and heritage, culture and history, in order to provide an enhanced, and sustainable, community asset. The project will achieve this through capital works programme and activities and interpretation plans, which include:
Plans for two new pedestrian entrances: at Hubbard Road and Robson Road
A new visitor centre provided within the existing cemetery lodge building
The repair and conservation of 16 significant monuments and their removal from the 'Heritage at Risk' Register
Infrastructure works to carriageways, footpaths, drainage and the extensive boundary wall
The repair of St Stephens Chapel (Greek Cemetery) to bring it into wider public use as a small-scale events venue
Interpretation and wayfinding to provide more ways for visitors to learn and explore
An activities, volunteering and interpretation programme to encourage new visitors and greater participation.
The project commenced in April 2019 and will last for five years. You can read further information on the project on the West Norwood Cemetery website.
To find out more about West Norwood Cemetery:
Friends of West Norwood Cemetery: 
Website: www.fownc.org/
Twitter: https://twitter.com/fownc1837
Walking the Cemetery:
Great London Walks: www.discoveringbritain.org/activities/greater-london/walks/west-norwood-...