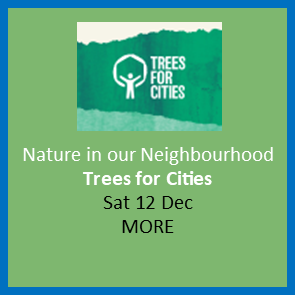 Our final festival Nature in our Neighbourhood project is Trees for Cities.
This brings us full circle from our first festival online live on Sun 29 Nov with Paul Wood talking about his book London Tree Walks.
Trees for Cities are the only UK charity working at a national and international scale to improve lives by planting trees in cities, and go on to say:
'We get stuck in with local communities to cultivate lasting change in their neighbourhoods – whether it's revitalising forgotten spaces, creating healthier environments or getting people excited about growing, foraging and eating healthy food.
The effects of climate change are already being felt. We're experiencing warmer, wetter winters, and hotter, drier summers, creating higher temperatures in our cities. Climate change has caused an increase in pests and disease, which had never previously affected the UK. The impact has been an unprecedented threat to some iconic tree species, including ash, horse chestnut and oak.
By planting thousands of urban trees worldwide each year, Trees for Cities is building resilience against threats facing the natural environment.  Planting a range of tree species enhances structural and functional diversity in woodlands and on city streets, as well as building resistance to pests and disease.'
Find our more about this charity, and how to get involved, here: www.treesforcities.org/
And don't forget our own local charity, Open Orchard, who were our Nature in our Neighbourhood project on Sat 5 Dec.
When Tim Smit, our online live speaker yesterday was asked at the end of his session to suggest 3 things we should all go away and do - growing things was his no1!
So, when you are out at the Feast Christmas Market today, find the South London Botantical Institute stall outside West Norwood Library and Picturehouse - they are running a free festival planting workshop - pot up your own little Christmas plant to take away in an eco-friendly pot - how easy is that!