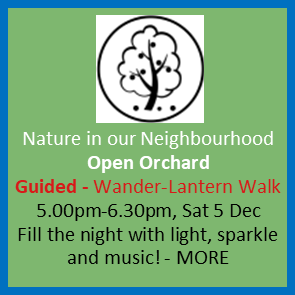 'It is better to light just one little candle than to stumble in the dark!'
Sat 5 December
Guided - Wander-Lantern Walk with Open Orchard
Where? West Norwood Library and Cinema
When? 5.00pm - 6.30 pm
Join Open Orchard on a lantern walk around West Norwood's wild and wondrous streets and parks to fill the night with light, sparkle and music!
Bring your own lantern – tree-, wilderness- or fruit-themed, whatever takes your fancy. See some ideas below on how to make your own.
We'll gather and take off just after 5pm from West Norwood Library and Cinema. FREE and open to all!
Please note: According to Tier 2 COVID restrictions we'll need to follow the "Rule of 6", so we ask you to stick to your group of up to 6 people and respect social distancing rules.
Some inspirations for DIY lanterns:
www.redtedart.com/leaf-lanterns/?cn-reloaded=1
www.youtube.com/watch?v=yPaBSyTdPPI
www.youtube.com/watch?v=65Bx7QL12sU
https://liagriffith.com/fall-paper-cut-lantern/
Open Orchard will arrange to bring some extra led-lights. Drop them an email if you need one, so they can organise enough.

Below we share the English versions of some traditional St. Martin's Lantern Walk songs. Shine bright!
I Go Outside With My Lantern
I go outside with my lantern, my lantern goes with me
Above me shine the stars so bright, down here on Earth shine we.
So shine your light in the still dark night, la bimmel, la bammel, la boom, boom boom.
'Neath heaven's dome till we go home, la bimmel, la bammel, la boom, boom boom.
My Lantern
My Lantern, my lantern
Sun and moon and stars.
Put out all your lights! Put out all your lights!
So my lantern can really shine bright!
Glimmer Lantern, Glimmer
Glimmer lantern glimmer, little stars a-shimmer.
Over meadow, moor and dale flitter flutter elfin veil.
Pee-wit pee-wit, tick-a-tack-a-tick, coo-coo-roo-coo.
Glimmer lantern glimmer, little stars a-shimmer.
Over rock and stock and stone wander tripping little gnome.
Pee-wit, pee-wit, tick-a-tack-a-tick, coo-coo-roo-coo.
---

What is Open Orchard?
Open Orchard connects locals through fruit and the planting of fruit trees in public places. We strive to engage local residents in the planting and ongoing care of trees and provide them with free fruit while enhancing the biodiversity in our urban environment. 
The Open Orchard Project started in 2014 in West Norwood, with the help of The Open Works, a council initiative for community-led projects. A group of local citizens came together to plant 67 fruit trees in 9 public locations in and around West Norwood and Streatham Hill in south London. To date, we have planted over 200 trees in at least a dozen of mini-orchards in parks and on public land in the area.
In June 2019, we changed our constitution to extend our activities from fruit orchards to planting non-fruit trees in public spaces as well.
Open Orchard relies entirely on donations and grant funding for our work, and is fully volunteer-run. Find out more and get involved:
Find out more about Open Orchard:
Website: openorchard.weebly.com
Facebook: www.facebook.com/OpenOrchardProject/
Twitter: https://twitter.com/openorchardproj?lang=en
Instagram: www.instagram.com/openorchardproject/
And how to support the project:
Gift a Fruit Tree - to the community this holiday season. The price covers the cost of the tree, a stake to support it and a metal mesh guard to protect the tree and give it the best chance of survival in its early years. The next fruit trees will be planted in February 2021.