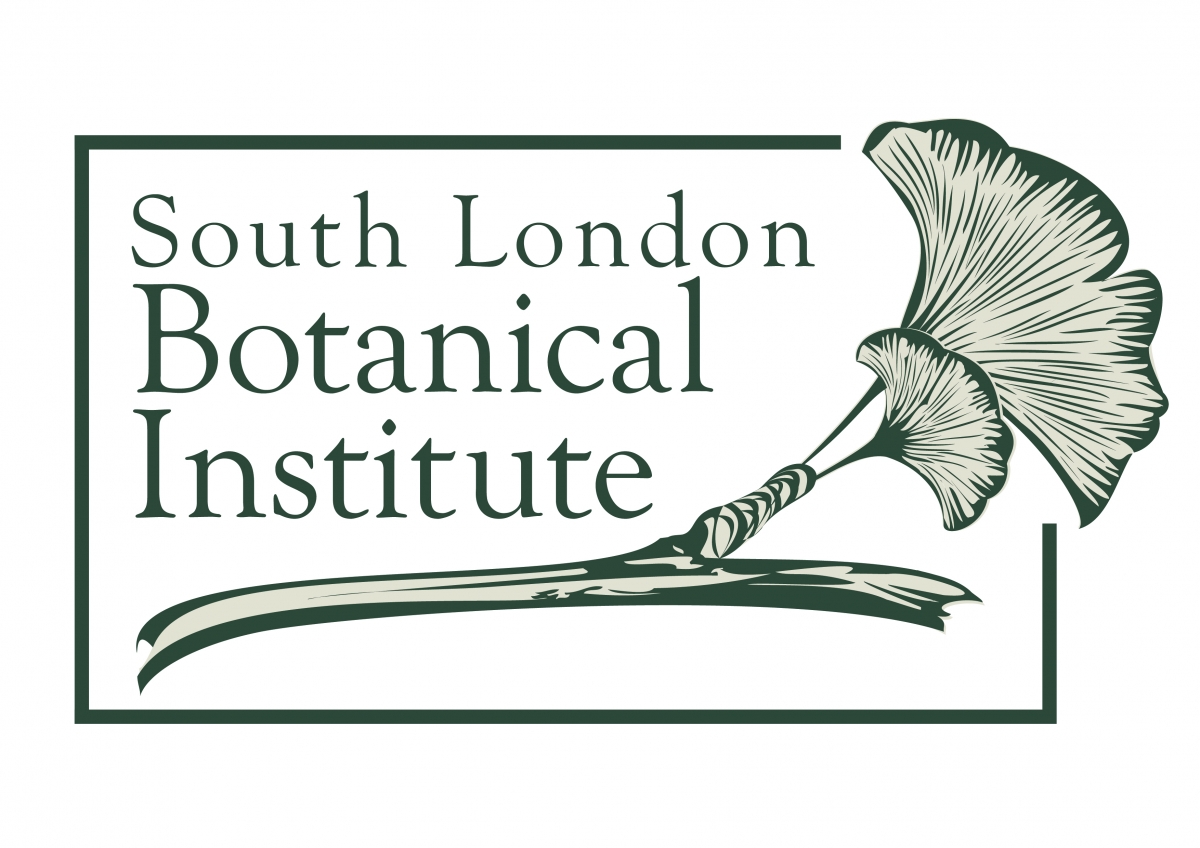 We are delighted to be working with South London Botantical Institute (SLBI) as our Festival Partner
Founded in 1910 in Tulse Hill, the South London Botanical Institute has a beautiful botanical garden and runs a wide range of courses, workshops, school visits and events for all ages.  A 'little gem of a place' where all are welcome to discover more about plants and the plant world.
SLBI will be programming several events across the festival (see below) - and don't forget to make a special trip to see their window display - it was magnificent last year!
Find out more about SLBI
Facebook @South London Botanical Institute   
Instagram @slbi_323
Twitter @SLBotanicalInst
Please consider supporting SLBI
The SLBI is a registered charity for botanical education. It supports people of all ages and backgrounds in learning about plants. By making a donation with your booking you will help to sustain our work with school children, families and the wider community. As a small charity, any amount you can give, large or small, will be warmly appreciated and make an enormous difference. Thank you.
Donate and/or Join
SLBI curated events:


Just the Tonic - A natural history of tonic water
Date: Thursday 3 December
Time: 7pm - 8pm
Where: SLBI online via Zoom, essential to book in advance here
How the cinchona trees of the Andes and Asia added zest to our bubbles!
Mark Nesbitt, curator of the Economic Botany Collection, RBG Kew
Kim Walker, herbalist, author The Handmade Apothecary and The Herbal Remedy Handbook
Kew botanists and authors of Just the tonic: A natural history of tonic water (Kew Publishing, 2019; Fortnum & Mason Food and Drink Award 2020) explore the history of the popular effervescent mixer. They believe that tonic water has been the unjustly overshadowed partner in the famous gin and tonic. The cocktail is thought of as a quintessentially English drink, yet its origins lie in the cinchona trees of eastern slopes of the Andes and the malarial landscapes of Asia. In this richly illustrated talk, Kim and Mark cut through centuries of legends to reveal a history of botany, medicine, empire and drinking to discover how the tree came together with alcohol and soda to create the perfect gin and tonic.

Christmas Bird Feeders - Children's workshop - YES - this is going ahead, and a few places are still available to book!
Time: 10am - 11am
Where: at SLBI, 
essential to book in advance here
How can we help our feathered friends through the winter?  Join us in the SLBI garden to make some DIY bird seed feeders and fat balls to take home and hang in your garden.  These will make some lovely Christmas presents to share with your friends and family too, so you can get some Christmas shopping done at the same time!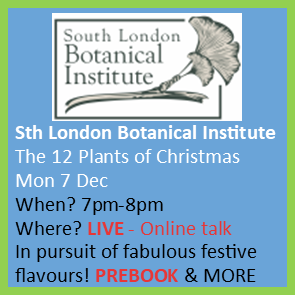 The 12 Plants of Christmas - Wreaths, Raisins & Roasties, Michael Holland, FLS
Date: Monday 7 December 
Time: 7 - 8pm
Where: SLBI online via Zoom, 
essential to book in advance here
This illustrated online talk will delve into the wonderfully rich world of Christmas customs and folklore, past and present.
Via 12 carefully chosen plants, it'll be a trip around the World in the pursuit of warming spices, a forage in the woods for plants much closer to home and then right into your kitchen cupboards for some fabulously festive flavours.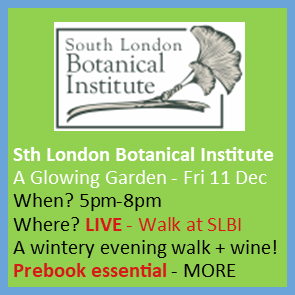 A Glowing Garden
Date: Friday 11 December
Time: 5 - 8pm
Where: This is a live event at SLBI with timed slots, booking is essential
A Wintry Evening Walk with Wine! Our Glowing Garden is happening this year! Enjoy a relaxing wander through our fairylit garden with a warming glass of mulled wine or juice. We have 3 timeslots of 5, 6 and 7 O'Clock for a maximum of 6 people. Group bookings welcome. A lovely way to spend a December evening in nature, and support the SLBI as we continue our work bringing botanical education to all ages, after a year of great change…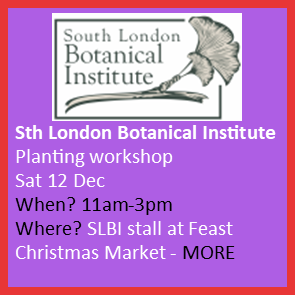 Planting workshop
Date: Saturday 11 December
Time: 11am - 3pm
Where: West Norwood Feast Christmas Market, SLBI stall can be found outside West Norwood Library and Picturehouse
Find Sarah Webley and Julia Minnear from SLBI at the West Norwood Feast Christmas Market. They will be running a free festival planting workshop - pot up your own little Christmas plant to take away in an eco-friendly pot with a Christmas tag (could make a nice little Christmas present!) - and they can also tell you all about the SLBI's events, talks, walks, workshops, and membership etc.