by Carlo Goldoni translated by Edward J Dent
Truffaldino is always hungry. He has arrived in Venice with his new master and can only think of one thing – his stomach. He somehow acquires a second master (two wages equals more food), and he must serve them both without the other finding out.
But when you aren't that clever and the masters you're serving are actually two lost lovers (one of them in drag), it's definitely not going to be easy. Throw in another pair of jilted lovers, some nosey old men, some questionable servant etiquette and a feast attended by both masters, and it's bound to be a mess!
Suitable for age 12+.
When: Tuesday 20 - Saturday 24 February 2018 at 8pm
(running time: 120 minutes, with a 15 minute interval)
Where: Stanley Halls, 12A South Norwood Hill, SE25 6AB.
Buy tickets: here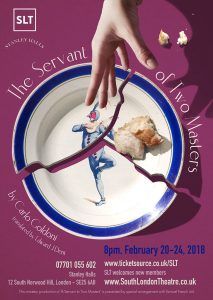 event date:
Tuesday, February 20, 2018