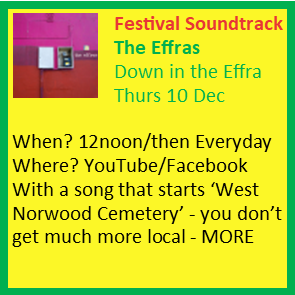 The Effras - Down in the Effra
How many songs begin with the words 'West Norwood Cemetery', this was the only possible track that would fit with our day celebrating our lost River Effra.
Bringing us sweet South London indie-country songs.
Classic English songwriting in the tradition of The Kinks & Squeeze" is how Tim Perry (promoter of legendary South London venue The Windmill) describes The Effras, formed in West Norwood in 2007. With songs about Routemaster buses, wasps, lost rivers and Penge, their blend of power pop and contemporary folk has found them supporting the likes of Chris Difford, Kathryn Williams, Robyn Hitchcock and Martin Carthy.
Find out more about The Effras here:
Facebook: www.facebook.com/The-Effras-6578032529/
Bankcamp: theeffras.bandcamp.com/album/the-effras