#ThrivingNorwood FREE activites and support that is especially welcoming to older adults
Digital Drop-Ins run by ClearCommunityWeb
Moving into Wellbeing run as part of the Open Door project, Christ Church, Gipsy Hill
---
 Please click on the poster for a larger version and to download
Digital Drop-Ins run by ClearCommunityWeb - especially welcoming to older adults
What? Digital Drop-Ins are places to get support, quietly practice or ask for advice for computers, tablets & mobile phones.
We can help you use your device, ensure it is safe and help you develop your skills & confidence.
We can help set up or recover accounts, install apps or transfer files.
Typical things we help with include we help with include
installing apps
creating or accessing email accounts
recovering accounts
re-setting passwords
transferring files
filling in forms
help with accessibility settings
running updates & checking for viruses.
We solve problems, keep you safe and extend skills!
We also help remotely and, in some cases, make a home visit so contact us for further information.
When? Dropin's began on Monday 4 September: West Norwood: Monday's 2pm-4pm, Gipsy Hill: Friday's 10am-12noon
For other dropin's and other events please follow this link
Where? West Norwood: West Norwood Library Community Room, 1-5 Norwood High St, SE27 9JX, Gipsy Hill: Upper Norwood Library Hub, 39 Westow Hill, SE19 1TQ
How to take part? No need to book, just turn up



Who is ClearCommunityWeb?
ClearCommunityWeb help people feel more confident and comfortable with technology through classes, workshops and individual support. Our work is designed to help people feel more comfortable with technology - for those who are new to it, or provide 'improver' style sessions for anyone looking for extra support. We understand technology can be overwhelming for many people. Making information as simple as possible can go a long way in giving people the confidence to overcome their fears and anxieties. Our services walk through the steps to resolve computer issues and difficulties people are having in staying connected.
Contact: for more information on this project and organisation: Caspar Kennerdale, info@clearcommunityweb.co.uk
Website: clearcommunityweb.co.uk/
Facebook: www.facebook.com/ClearCommunityWeb
Twitter: twitter.com/ClearCommunity
Instagram: www.instagram.com/ClearCommunityWeb/
---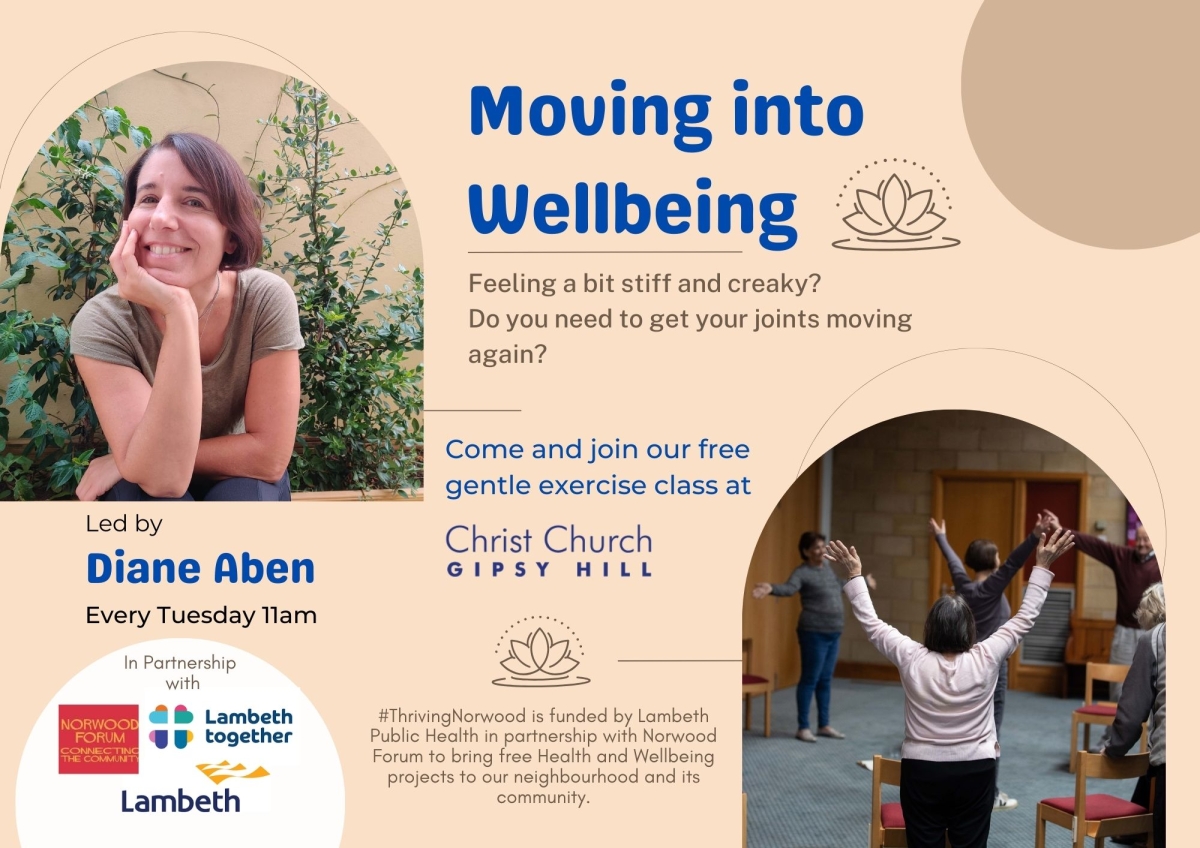 Please click on this image for a larger version and to download
Moving into Wellbeing run as part of the Open Door project, Christ Church, Gipsy Hill - especially welcoming to older adults
What? This is a gentle movement class led by a trained Pilates teacher. Feeling a bit stiff and creaky? Do you need to get your joints moving again?
When? Every Tuesday 11am-12noon followed by lunch if you wish to stay.
Where? Open Door at Christ Church Gipsy Hill, Highland Hill, SE19 1DP
How to take part? No need to book, just turn up. Refreshments will be provided after the class, and you are also welcome to stay for a free lunch too.



What is Open Door?
Open Door is Christ Church Gipsy Hill's long running community drop in. They welcome visitors every Tuesday from 11am, serving lunch at 12.30 and offer a warm welcome, friendship and conversation and a range of different activities until 2.30pm. They are also a regular scheduled stop for the Lambeth Health and Wellbeing Bus.
Contact: for more information on this project and organisation: email opendoor@gipsyhill.org.uk 
Website: www.gipsyhill.org.uk/open-door/
Facebook: www.facebook.com/christchurchgipsyhill/
---