#ThrivingNorwood FREE activites and support for adults currently experiencing mental health challenges
Drama Club London run by Becky Large
Volunteering and Open Mics 4 Mental Health: Norwood run by Key Changes
Thriving Norwood Wellbeing Champs run by It's a Playground
---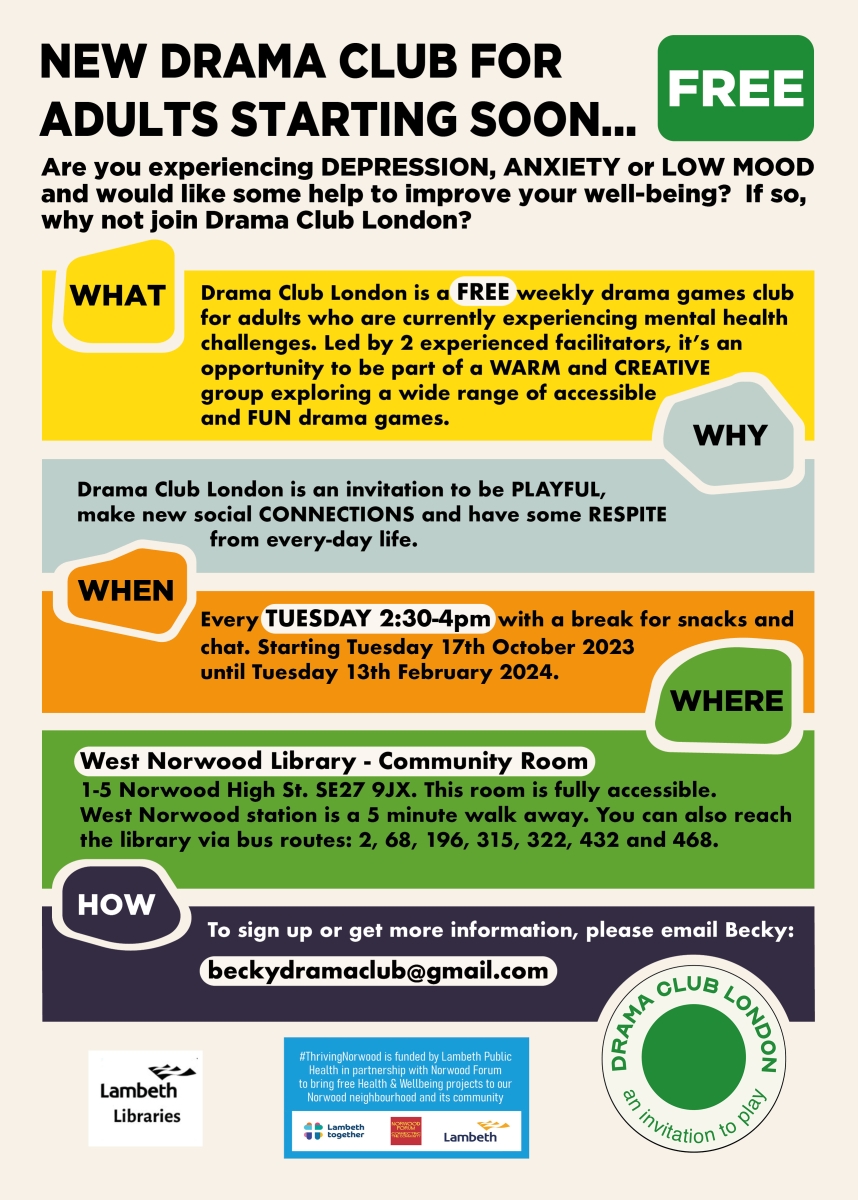 Click on the poster for a larger version and to download
Drama Club London - for adults aged 18yrs+ who are currently experiencing mental health challenges
What? Drama Club London will be a free weekly drama games club for adults who are currently experiencing mental health challenges. Led by 2 experienced facilitators, it's an opportunity to be part of a warm and creative group exploring a wide range of accessible and fun drama games. No acting or performance experience needed.
When? Weekly starting Tuesday 17 October, 2.30pm-4pm
Where? West Norwood Library 1-5 Norwood High St, SE27 9JX
How to take part? Contact Becky Large beckydramaclub@gmail.com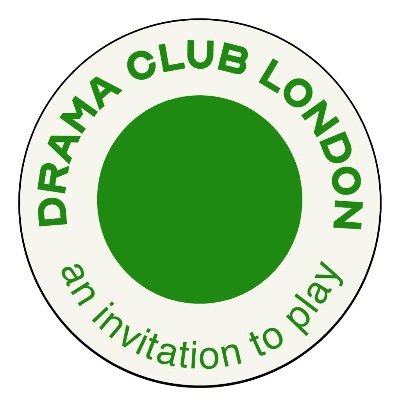 Who are Drama Club London?
This is a new project, set up and run by Becky Large. Becky has recently completed post graduate studies in Theatre for Community & Education and has a particular interest in using drama games to encourage playfulness in adults for long-term well-being. She is a freelance drama/creative facilitator in schools and community settings including the Old Vic Theatre and Ministry of Stories. She completed the Old Vic Theatre Facilitators training programme in 2022 – planning, delivering & evaluating creative workshops using drama games & theatre skills and has been a primary teacher with 25+ years of facilitating innovative, exciting, and purposeful learning environments. She also has a Diploma in Arts Administration & Management and a B.Ed Hons in Drama & English.
Contact: for more information: Becky Large beckydramaclub@gmail.com
Facebook: www.facebook.com/groups/958750788108591
Twitter: twitter.com/dramaclublondon
Instagram: www.instagram.com/dramaclublondon/
---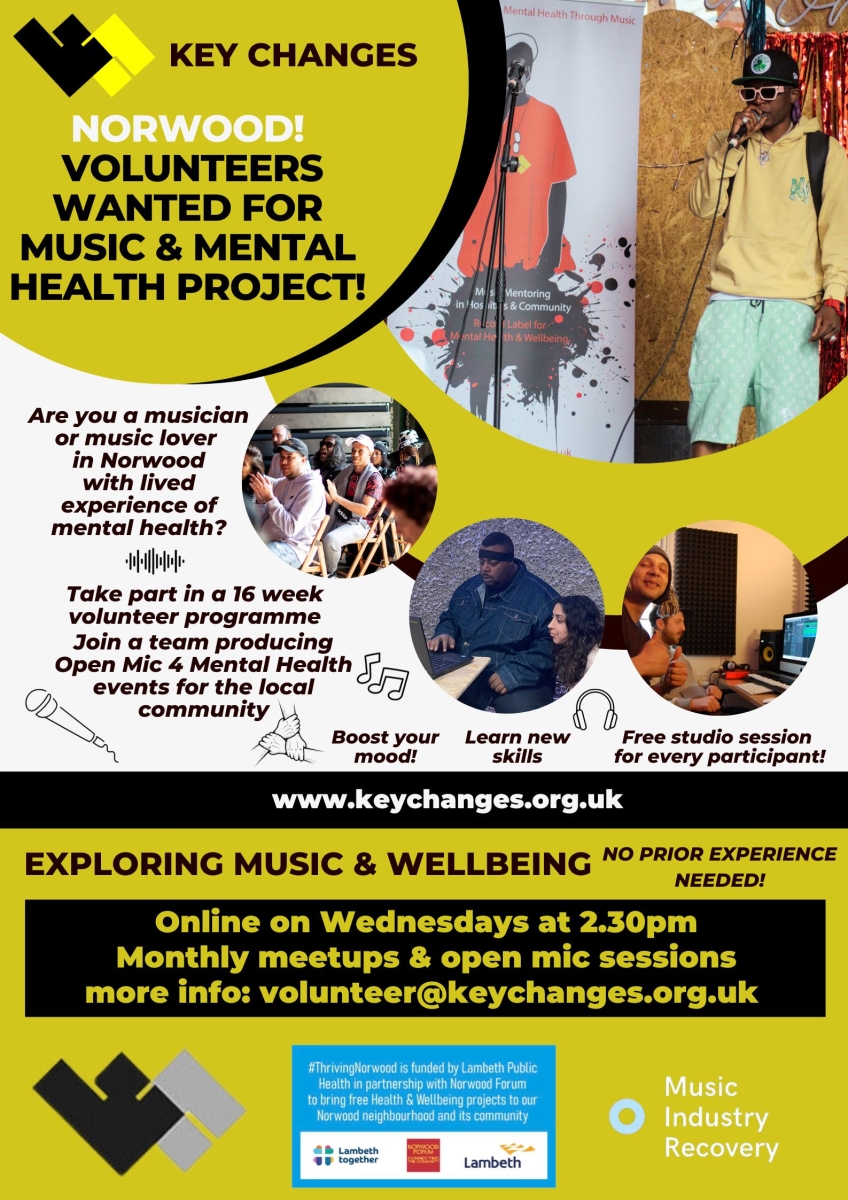 Click on the poster for a larger image and to download
Volunteering and Open Mics 4 Mental Health: Norwood run by Key Changes - for adults aged 18yrs+ who are currently experiencing mental health challenges
What? This new volunteering project will offer volunteering and/or work experience to local residents with mental health challenges. People can self-refer onto the volunteering programme, be referred by local VCSE organisations, or referred by their relevant mental health care coordinator/social worker.
Volunteers will engage in a 16 week programme, involving:
- Regular meetings with KC staff and peers
- Access to online music industry development sessions
- Access to musicians wellbeing peer support network
- Guidance and skills development
- Events management/production, hosting, customer service, music production, sound engineering and more
- Opportunities to perform at Open Mic 4 Mental Health events
Volunteers will utilise their skills developed throughout the programme to host x3 Open Mic 4 Mental Health events within their local area - encouraging Norwood artists to perform their own music whilst accessing an environment to meet peers who may be facing similar challenges. By building live performance opportunities in supportive settings (including local community events and hospitals), volunteers will inspire others that may be in mental health recovery. Bringing prosocial activities into the community, the events will also be an opportunity to showcase local creativity, whilst engaging the public with mental health issues and challenge stigma and discrimination.
When? Dates to be announced
Where? Venue also to be announced
How to take part? Please contact Harriet Wood volunteer@keychanges.org.uk



Who are Key Changes?
Key Changes was founded in 1997 by patients at Highgate Mental Health Centre who sought access to music activities whilst they were undergoing extended treatment in hospital. Today, the two core community programmes remain driven by beneficiaries, through regular consultations and by our growing network of freelance mentors and event co-facilitators who have lived experience of mental health issues and accessed our programmes as participants in hospital and/or the community.
Our programme staff are all music industry producers with a high level of credibility for the target group. All mentors have undertaken extensive training in mental health awareness and safeguarding, in order to support vulnerable people safely and effectively.
All members of Key Changes SMT have at least five years experience within our team, and have successfully delivered similar grant funded projects and contracts on behalf of City Bridge Trust, Lloyds Bank Foundation, London Borough of Islington, National Lottery Fund, Arts Council England and many more.
Contact: for more information on this project and organisation: Harriet Wood volunteer@keychanges.org.uk
Website: keychanges.org.uk/
Facebook: www.facebook.com/keychanges
Twitter: twitter.com/keychangesmusic
Instagram: www.instagram.com/keychangesmusic/
---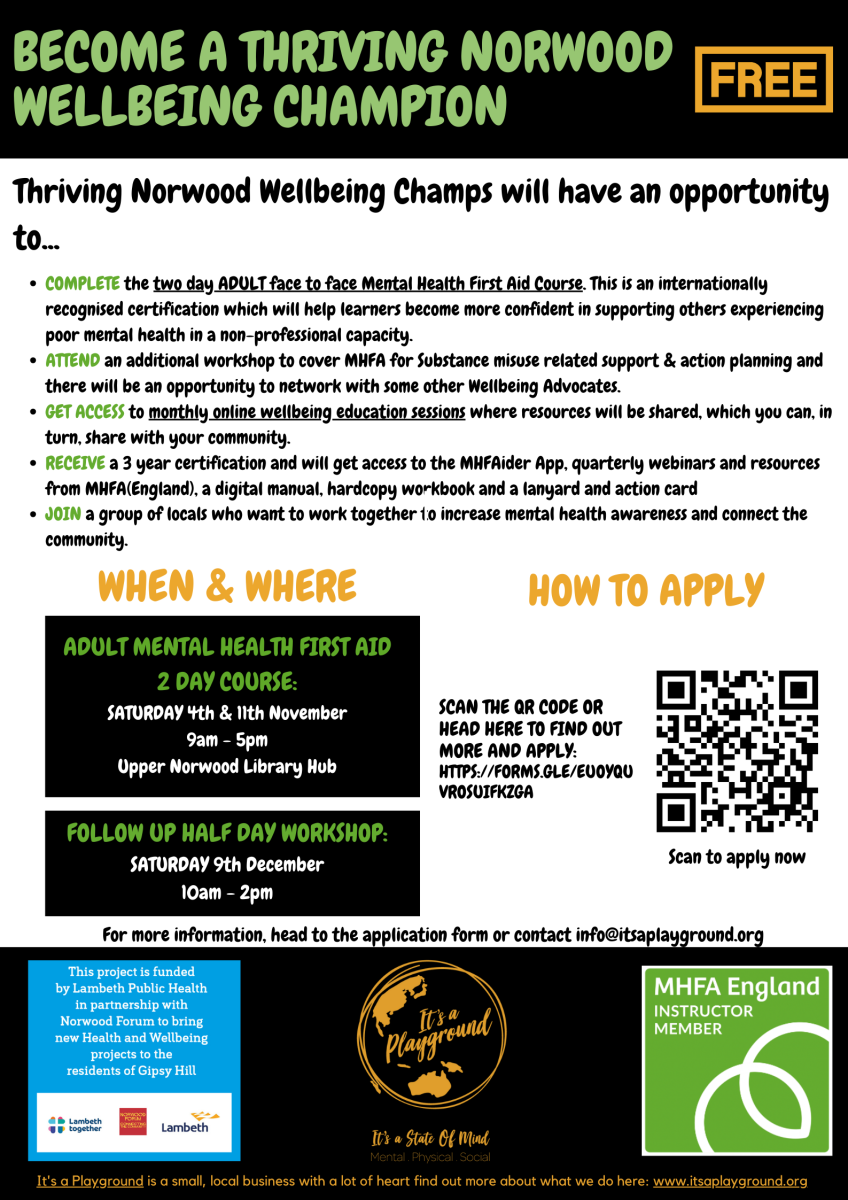 Please click on the image for a larger version and to download the poster
Thriving Norwood Wellbeing Champs (previously Gipsy Hill Wellbeing Champions in Round 1) run by It's a Playground - for adults aged 18yrs+
What? An opportunity to become a certified Mental Health First Aider (MHFA) and join a community of locals who want to inspire positive change across Norwood and support and encourage others. Find out more about what the course will cover here
Thriving Norwood Wellbeing Champs will:
COMPLETE

 the two day ADULT face to face Mental Health First Aid Course. This is an internationally recognised certification which will help learners become more confident in supporting others experiencing poor mental health in a non-professional capacity.

ATTEND

 an additional workshop to cover MHFA for Substance misuse related support & action planning and there will be an opportunity to network with some other Wellbeing Advocates.

GET ACCESS

 to monthly online wellbeing education sessions where resources will be shared, which you can, in turn, share with your community.

RECEIVE

 a 3 year certification and will get access to the MHFAider App, quarterly webinars and resources from MHFA(England), a digital manual, hardcopy workbook and a lanyard and action card

JOIN

 a group of locals who want to work together to increase mental health awareness and connect the community.
When? 
PART 1: Adult MHFA(England) Thriving Wellbeing Champion Course
2 Day Course: 9am-5pm, Saturday 4 and Saturday 11 November 2023
PART 2: Follow up workshop, action planning and networking session
Half Day Course: 10am - 2pm, Saturday 9 December 2023
Please note - all dates must be attended
Where? 
PART 1  - Upper Norwood Library Hub, 39 Westow Hill, SE19 1TQ (we'll be in the Teal room)
PART 2 - Venue TBC
How to take part? If you live in the borough of Lambeth in the Norwood area (Gipsy Hill, Tulse Hill, West Dulwich, West Norwood) and are interested in finding out more and potentially applying for this opportunity, please follow this link 
Any questions, please contact Laura Rigden info@itsaplayground.org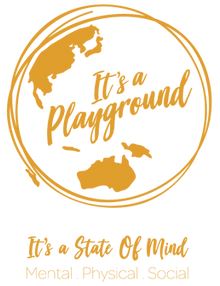 Who is It's a Playground?
"It's a Playground" is a small but mighty local wellbeing consultancy & specialist training company with a whole lot of heart. They use basic, evidence-based wellbeing principles peppered with genuine passion, personal experience and curiosity to empower individuals and support communities and organisations to thrive.
Want to know a bit more: About your MHFA(England) instructor and the company behind this initiative (It's a Playground)? Head here: www.itsaplayground.org/about
If you'd like to register: To receive a monthly from It's a Playground, head here: www.itsaplayground.org/keep-up-to-date-subscribe-now
Contact: for more information on this project and organisation: Laura Rigden info@itsaplayground.org
Website: www.itsaplayground.org/
Facebook: www.facebook.com/mindstrengthandconditioning/
Instagram: www.instagram.com/itsaplayground/