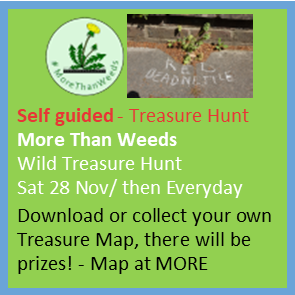 Your Treasure Hunt Map will be available very shortly - and you will also be able to collect a printed copy - details to follow. Post your photos online using #norwoodtreasure. There will be prizes!
More Than Weeds
Sophie Leguil is a freelance botanist, gardener, writer and nature tour leader. In 2019, she created the project "More Than Weeds", which hopes to change people's perception of urban flora and inspire local authorities to create greener and healthier streets for everyone. Our humble pavement "weeds" not only help wildlife thrive in cities, they can also absorb pollution & brighten our streets - let's learn to love them!
Find out more about More Than Weeds
Website: www.morethanweeds.co.uk
Twitter: @MoreThanWeeds
Instagram: @More_Than_Weeds
Please consider supporting More Than Weeds
Sophie says:
'I do not currently hold funding and I am therefore limited by the fact that I have to achieve a lot on my volunteer time. I do also have costs associated to the project – web hosting, attendance to meetings and events etc
If you have suggestions of funding opportunities for my project, or if you work for an organisation, and would like to collaborate with me, please do get in touch.
If you'd like to get one of the project's dandelion badges, do let me know. They proved very popular at the launch!