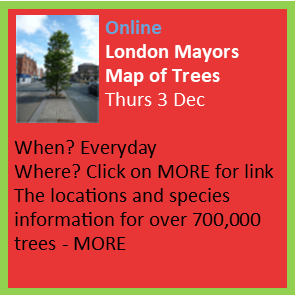 London Tree Map
Whilst Tree Talk (featured on Sunday 29 November) will help you plan a walk, we think the London Mayors map is worth looking at - just seeing the shear number and variety of Street Trees across London is inspiring:
'This map is an initial attempt to visually present London tree data. The majority of the data is for street trees but also includes some park trees. The map shows the locations and species information for over 700,000 trees. The recent London iTree report estimated that there are over eight million trees in London, so the map is only a partial illustration of trees in London
There are several potential benefits to the public sharing of tree data. We hope that visualising tree data, and providing access to it in one place, will help to raise the public profile of the important contribution of trees to our urban environment and also provide operational benefits for tree managers. Sharing and standardising data could provide essential information for the strategic management of the urban forest. For example, it could help to assess species diversity and threats from pests and plant diseases across London, and also help identify areas for additional planting.'
The map can be found here: www.london.gov.uk/what-we-do/environment/parks-green-spaces-and-biodiver...