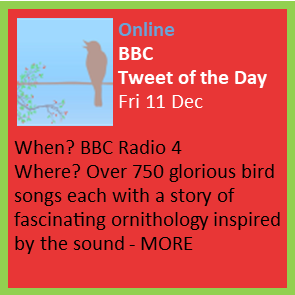 Tweet of the Day
Discover birds through their songs and calls. Each Tweet of the Day begins with a call or song, followed by a story of fascinating ornithology inspired by the sound.
Where? BBC Radio 4
When? 05.58am each day (2mins long) and also 8.58am (2mins) and 10.54am on Sundays (5mins long)
Episodes, Clips, Galleries, Podcasts and the Tweet of the Week - plus more than 750 back episodes to browse.
Quite simply magnificent!
Find everything here: www.bbc.co.uk/programmes/b01s6xyk