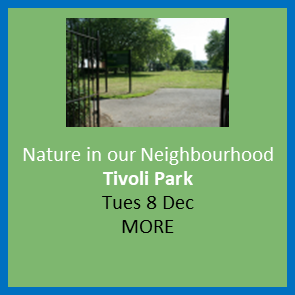 Today our Nature in our Neighbourhood focus is on Tivoli Park.
The park streches between two roads with an entrance on both Tivoli Road and Knights Hill, and it lies just across the road from Knights Hill Wood which we feature on Friday 11 December.
Knights Hill is named after the Knight family who owned land in this area in the 16th century. Formerly called Knights Hill Recreation Ground, Tivoli Park is an historically interesting site for its connections with the Maudslay engineering family who lived nearby and it was once part of the grounds of the Maudslays' house. It was purchased with involvement of the MPGA in 1914, and has been saved from being sold off a number of times. It is currently owned and managed by Lambeth Council and their new Parks and Gardens department. Opening times etc can be found here: www.parksandgardens.org/places/tivoli-park-lambeth
Brixton Buzz published a photo feature on the park in May this year, and you can find that here: www.brixtonbuzz.com/2020/05/photo-feature-on-tivoli-park-a-small-open-space-on-the-top-of-knights-hill-west-norwood-se27/
You may have taken part in the fantastic project run by Nature Vibezzz in Tivoli Park and Knights Hill Wood?
Memories, Heritage and Community of Knights Hill Woods and Tivoli Park: Starting in November 2017 this one and a half year old community project focused on the historical and natural heritage of Knights Hill Wood and Tivoli Park and included historic heritage research techniques, practical nature conservation and wildlife identification techniques. These techniques were taught in order to preserve the heritage and increase the wildlife biodiversity of Knights Hill Wood and Tivoli Park for future generations and were run via a series of free activities at both sites open to the general public and tailor made for youth groups / community groups / schools.
A film of the project will be released very shortly.
Local volunteer organisation Open Orchard, featured as a Nature in your Neighbourhood focus on Saturday 5 December, have also planted a community orchard.
There is a Friends Group, who run a Facebook page: www.facebook.com/Friends-of-Tivoli-Park-113670895333531