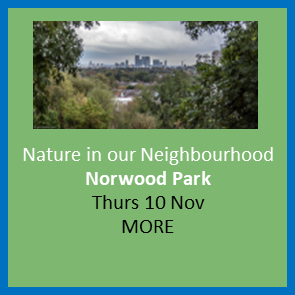 Today our Nature in our Neighbourhood focus is on the popular Norwood Park.
The River Effra, our theme for the day, runs through Norwood Park. Norwood Park is also home to some of the last remaining trees of the ancient Great North Wood, a running theme throughout the festival, including the inspiration for our festival project of the same name installed in shops and businesses along Norwood Road, Norwood High Street and Knights Hill - culminating in a large window display recreating the trees of the ancient wood, and showcasing some of our existing Nature in our Neighbourhood spaces (including Norwood Park and its iconic sculpture The Juggernaut of Nought - see below for more info on this). This project was sponsored by Station to Station: West Norwood and Tulse Hill, our local business improvement district.
Norwood Park is situated on one of the highest points in Lambeth and offers some amazing views across South London. The park is jointly managed by Lambeth Council and the community group Friends of Norwood Park.
Norwood Park represents some of the last evidence of the wooded common lands of medieval Norwood. The name Norwood derives from the 'Great North Wood' of Surrey, 1,400 acres of wooded lands, which in the 18th Century extended from Croydon to Camberwell.
The Great North Wood was originally common land in the Manors of Croydon and Lambeth and most of it belonged to the Archbishop of Canterbury. The cultural heritage of the park is largely derived from its history as rural common land.
In 2011 the park celebrated its centenary. Over a hundred years ago the park was handed over to the community as a common, under the stewardship of the council.
In the 13th Century the Great North Wood, was (aside from being a food source), "a vital supplier of timber for the Royal Dockyards at Deptford." 
The Great North Wood "was gradually lost to housing, fields and roads, and by the end of the 18th Century had almost disappeared. The Archbishop of Canterbury obtained an Act of Parliament in 1806 to enclose the remaining common land within the Manor of Lambeth and much of it was built upon.
33 acres remained as open space and London County Council acquired it in 1903 to create a new public park to serve the needs of a growing local population in West Norwood and Gipsy Hill. The new park was called 'Norwood Park' and opened officially to the public in 1911. It was designed to retain many features of the old hilly common, along with avenues of trees, hedges, games court and playground."
Find out more from the very active Friends of Norwood Park:
Website: www.friendsofnorwoodpark.co.uk/
Facebook: www.facebook.com/FriendsofNorwoodPark
Twitter: twitter.com/FriendofthePark
The Juggernaut of Nought
Designed by local sculptor Richard Trupp: richardtrupp.com/
Twitter: twitter.com/richardtrupp?lang=en