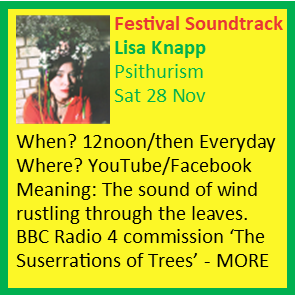 Lisa Knapp
London based folk singer, songwriter, fiddle player, musician, digger and delver
Psithurism, Festival Soundtrack
While it's true that Lisa Knapp's music is steeped in old weird England and its mysterious customs, it's not a nostalgia for idyllic yesteryears. These are records made amidst the reality of a Britain which is anything but merry. You can hear it in her use of sampled street sounds; the cut-up vocals; the very modern manipulation of sound – a tension between then and now where Lisa's music sparks. These reminders of where we came from also ask us who we are now.
Lisa has kindly donated this amazing track to our Festival Soundtrack. You can hear it here.
And listen to the BBC Radio 4 programme 'The Suserrations of Trees' which Lisa was commissioned to write this piece of music for, here.
Find out more about Lisa and her music here:
Website: www.lisaknapp.co.uk/
Facebook: www.facebook.com/shesingsongs/
Twitter: twitter.com/LisaKnappMusic
Instagram: www.instagram.com/lisavoice/
Please consider supporting Lisa here:
Bandcamp 
Apple Music