Information source: NHS South East London Clinical Commissioning Group (to find out who this group is, please scroll to the end of this page)
Useful Links
Frequently Asked General Questions can be found at the end of this page, please scroll down.
Vaccine information in a wide variety of languages, please also scroll down to the end of this page.
---
3 Feb 2021: Important new guidance to the over 70's on how to access your Covid-19 vaccination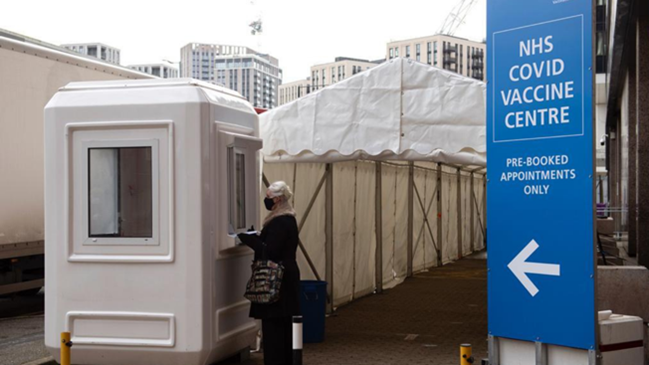 ​An invitation letter is no longer required if you are aged over 70
On the 3 February, NHS England (London region) announced changes to the way in which Londoners over the age of 70 can access their COVID vaccination.
The change has been made to ensure anyone over the age of 70 can get their first COVID vaccination as soon as possible. 
Any London resident over the age of 70 who has not yet had their first COVID vaccination can now book online - www.nhs.uk/book-a-coronavirus-vaccination/enter-your-name, call 119, or contact their GP practice directly.
To make your appointment you will need your NHS number OR your date of birth and post code.
Having a vaccine is the best way to protect you from coronavirus and will save thousands of lives.
If you are over 70 and haven't yet been invited for your first COVID vaccine, you can now book by visiting www.nhs.uk/book-a-coronavirus-vaccination/enter-your-name or by calling 119 or contact your GP practice directly. You no longer need a letter.
The national service allows you to book an appointment at a vaccination centre or community pharmacy but not at a GP practice. 
If going to a GP practice is your preference, please contact your GP directly who can refer you to a local primary care vaccination site.
For Everyone Else, the message remains the same - please wait to be contacted.

Key vaccination information from NHS South East London Clinical Commissioning Group:
You must be registered with a GP to be vaccinated. Link below to help you register.
Wait to receive your invitation to be vaccinated
Only arrive 5mins before your vaccination appointment time, otherwise you will be contributing to an uncomfortable (usually outdoors with no chairs or toilets) queue for everyone
Wear clothing that will enable easy access to the top of your arm. Having to remove lots of clothing takes up valuable time, including your own
If you are housebound (or know someone who is), make sure your GP is fully aware of this (a reason to ring your GP). A roving service to carry out home vaccinations is about to begin.
To be invited for a vaccination you will need to be registered with a GP surgery in England. If you need to register with a GP, follow this link to find out how.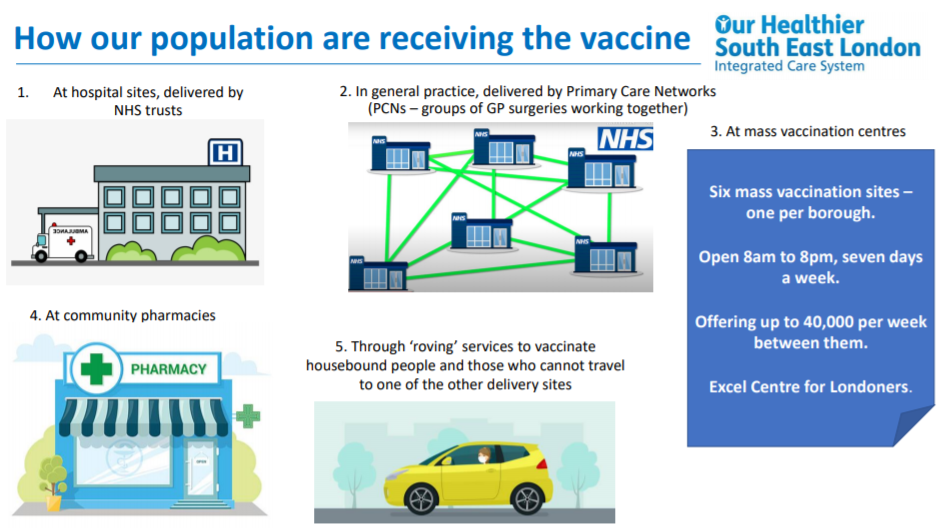 Why can't everyone get a COVID-19 vaccine now?
The order in which people will be offered a vaccine is based on advice from the Joint Committee on Vaccination and Immunisation (JCVI) – see an explainer video here.
Read the latest JCVI advice on priority groups for the COVID-19 vaccination on GOV.UK.
Some south east London GPs are reporting that patients have already been asking for the Covid-19 vaccine and are then confused and disappointed when turned away.
We're keen to highlight one particular leaflet which explains the current eligibility and availability criteria – see here.
Please wait to be contacted – do not contact your practice to ask for the COVID-19 vaccine. We have not forgotten about you and when it is your turn the NHS will contact you.
When it is the right time you will receive an invitation to come forward – this could be by letter, text or phone call, either from their GP or NHS England. This communication will provide all the information you will need to book appointments, including their NHS number.
When you get an appointment please attend, and only turn up five minutes before your slot to avoid waiting a long time or standing in queues, almost always outside. Everyone who has an appointment will get the vaccine. 
Advice if you're of childbearing age, pregnant or breastfeeding
There's no evidence the COVID-19 vaccine is unsafe if you're pregnant or breastfeeding, but more evidence is needed before you can be routinely offered the vaccine.
The vaccine should only be considered for use in pregnancy when the potential benefits outweigh any potential risks for the mother and baby.
Women should discuss the benefits and risks of having the vaccine with your healthcare professional and reach a joint decision based on individual circumstances. Women who are breastfeeding can also be given the vaccine.
Read the latest COVID-19 vaccine advice if you're pregnant, may get pregnant or are breastfeeding.
How is the COVID-19 vaccines is given?
The COVID-19 vaccine is given as an injection into your upper arm. It is given as two doses with the second dose of the vaccine given up to 12 weeks after the first dose.
Why are you postponing second doses?
The UK Chief Medical Officers have agreed a longer timeframe between first and second doses so that more people can get their first dose quickly, and because the evidence shows that one dose still offers a high level of protection after two weeks – 89% for the Pfizer/BioNTech vaccine and 74% for the Oxford/AstraZeneca vaccine.
This decision will allow us to get the maximum benefit for the most people in the shortest possible time and will help save lives.
Getting both doses remains important so we would urge you to return for it at the right time.
COVID-19 vaccine side effects
Most side effects are mild and should not last longer than a week, such as:
a sore arm where the needle went in
feeling tired
a headache
feeling achy.
You can take painkillers, such as paracetamol, if you need to.
If you have a high temperature you may have coronavirus or another infection.
If your symptoms get worse or you are worried, call NHS 111.
It is very rare for anyone to have a serious reaction to the vaccine (anaphylaxis). If this does happen, it usually happens within minutes of receiving the vaccine where trained clinical professionals are on hand to attend to you immediately.
Anyone with a previous history of extreme allergic reactions will be issued the vaccine in a high controlled environment such as a hospital site. If you have a history of anaphylaxis reactions please discuss this with your GP when they contact you for your vaccine appointment and they will refer you to a more appropriate site.
More information on possible side effects can be found at www.nhs.uk/covidvaccine
COVID-19 vaccine ingredients
The two approved COVID-19 vaccines do not contain any animal products or egg, and are therefore suitable for vegetarians and vegans.
The British Islamic Medical Association have produced a helpful guide for the Muslim community which can be found at www.britishima.org/pfizer-biontech-covid19-vaccine 
For the latest information, for more than we have repeated above, and especially to read the Frequently Asked Questions - and their official answers, please follow this link: selondonccg.nhs.uk/what-we-do/covid-19/covid-19-vaccine/
---
What is the NHS South East London Clinical Commissioning Group (CCG)?
The SECCG is a clinically led organisation responsible for planning, buying and monitoring most of the health services used by Lambeth residents.
This CCG was set up on 1 April 2020 and covers the boroughs of Bexley, Bromley, Greenwich, Lambeth, Lewisham and Southwark.
CCGs are local, clinically led, statutory NHS bodies. They are membership organisations, whose members, in the case of the South East London CCG, are all the GP practices that serve the six boroughs. They are led by a governing body made up of local GPs drawn from across these boroughs, other clinicians, executives and lay members. 
Frequently Asked Questions
or the latest information, for more than we have repeated above, and especially to read the Frequently Asked Questions - and their official answers, please follow this link: selondonccg.nhs.uk/what-we-do/covid-19/covid-19-vaccine/
Vaccine Information in Community Languages
NHS doctors, nurses and other frontline staff have come forward to help reassure communities that COVID-19 vaccines are safe, effective and have been independently tested to the highest standards.
Clinicians have recorded messages in some of the most commonly spoken languages – apart from English – in the capital to help ensure messages about the importance of getting a COVID-19 vaccine reach all Londoners.
They explain how the vaccine is given, and give clear evidence that the vaccines work and are safe. It is hoped that the videos will be shared among friends, families, faith and community groups via WhatsApp, text message and on social media. You can view the script in English and view the videos following this link. The videos are availble in the following languages:
Arabic
Bengali
Gujarati
Polish
Punjabi
Romanian
Spanish
Swahili
Turkish
Urdu
Yoruba