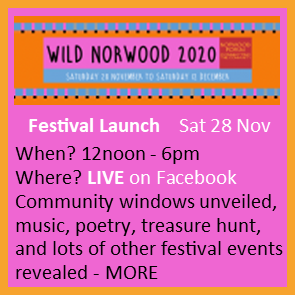 Hurrah - it's the start of Wild Norwood 2020
Before you go out Window Wanderland hunting, various festival long events and actitives will be going live this afternoon:
Festival Soundtrack is launched. One track a day - plus a special bonus track, featuring local musicians as well as international ones, and their tracks that feature nature. Every LIVE evening event will begin with that track of the day too.
Wild Pavements - A Treasure Hunt. Map will be available very shortly to download.
Wild Poetry - Street Poetry. Beginning with this original piece, other poetry will be published throughout the festival - your challenge will be to find it.
Great North Wood walk. Trail of Great North Wood oak, hornbeam, holly and ivy leaves across 45 local shop and business windows. Follow the trail to the community window display at West Norwood Picturehouse.
5pm: Community Window Display - unveiling. LIVE on Facebook, the unveiling of the window display in West Norwood Picturehouse.
6pm: Wrap up warm - its time to go Wanderland Window hunting - link to the map will appear here.
You don't need to have a Facebook account to view: www.facebook.com/TheNorwoodForum.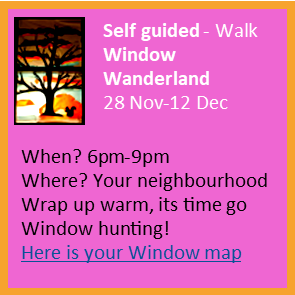 Watching the unveiling will leave you plenty of time to wrap up ready for your first self-guided hunt around your neighbourhood for Wanderland Windows. The Windows map will be available on Saturday 28 November to view and/or download here: www.windowwanderland.com/area/norwood/
You can join in with your own Windows at any time - right up to Saturday 12 December, just please remember to register your window on the windows map!
​Here is the link to register your own windows: www.windowwanderland.com/event/norwood-2020/