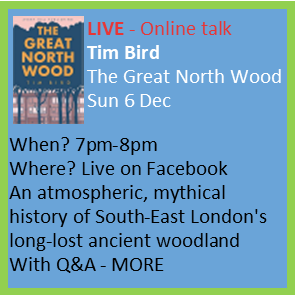 Tim Bird is a cartoonist living in south London. He has published a number of comics through Avery Hill Publishing as well as creating self-published zines and contributed work to a diverse range of anthologies. In his comics, he is interested in exploring the history, mythology and memories contained within the landscapes that surround me.
Tim won Best Comic at the 2015 British Comic Awards for Grey Area – From The City To The Sea.
For Wild Norwood 2020, Tim will be reading from his book The Great North Wood, an atmospheric, mythical history of South-East London's long-lost ancient woodland, and the next day, three copies will be 'set free' into Wild Norwood - ready to be discovered and enjoyed.
'Forest Hill. Honor Oak. The names of South-East London's leafy suburbs evoke the ancient woodland from which they arose. There was a time, many centuries ago, when all of the southeast was covered in dense forest --'England slumbered beneath a canopy of leaves' --that is, until Man began to pull it apart, bit by bit. One particular forest stretched from what is now Croydon to Southwark, from Lambeth to Lewisham.
As Man claimed ownership of this land, they wrote a name on a map: The Great North Wood.
Over time, The Great North Wood was cleared --Empire called for wood to make ships; a growing population required land for farming; industrialisation allowed railway lines and roads to cut through the forest and bring people into newly-formed suburbs; war and rebuilding brought a new kind of destruction in the form of bombs, then concrete.
Now, only small patches of woodland remain amidst South-East London's suburban sprawl. The forest whispers its mythical history through these patches, and through names on maps: 'Norwood'.
In The Great North Wood, Tim Bird amplifies the forest's whispers, bringing to life its history and many legends. We learn of the great oak tree (only a rusty plaque remains) that gave name to Vicars Oak Road and of Margaret Finch, the gypsy fortune-teller immortalised by the name Gipsy Hill. We hear the legend of Queen Elizabeth I knighting the great tree on a hill --now Honor Oak, but no tree remains. Through these legends, and by learning about the disappearing Great North Wood, we come to understand what has been lost and appreciate the pockets that remain. A curious fox, London's constant reminder of who was here first, leads us across Bird's journey through space and time.
The story of The Great North Wood is stunningly brought to life through Bird's beautiful storytelling and tender illustrations. The creator of Grey Area: From the City to the Sea --winner of Best Comic at the 2015 British Comic Awards --and Grey Area: Our Town, Tim Bird is a master of using the comics medium to give us beautiful, quiet, understated stories that demand the reader's careful consideration.
Date: Sunday 6 December
Time: 7pm - approx 8pm
Where: This will be livestreamed on our Facebook page. There is no need to have a Facebook account to view.
Find out more about Tim Bird here:
Website: www.timothybird.co.uk/
Twitter: https://twitter.com/t_j_bird
Instagram: www.instagram.com/timothybird/
And please consider supporting Tim here:
Shop: www.timothybird.co.uk/shop