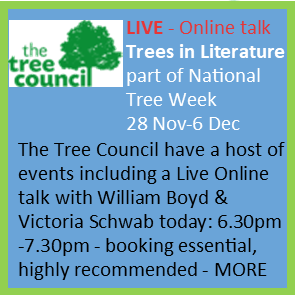 Tuesday 1 December
Trees in Literature with William Boyd and Victoria Schwab
Part of National Tree Week, run by The Tree Council
When: 6.30pm-7.30pm
Booking essential
Find out more here: https://treecouncil.org.uk/take-action/seasonal-campaigns/national-tree-week/join-our-free-national-tree-week-arts-culture-events/
National Tree Week, 28 Nov-6 Dec is the UK's largest annual tree celebration, marking the start of the winter planting season - November to March.
'The Tree Council first established National Tree Week in March 1975 to support national replanting of trees after the outbreak of Dutch Elm disease. Each year, upward of a quarter of a million people don their boots and gloves and come together to plant trees. Though we may not be able to get together to plant trees as we usually would due to lockdown measures, we are still bringing people together to celebrate trees with a programme of arts and culture events.'
Our own Knights Hill Wood features English Elm trees that escaped Dutch Elm disease and this lovely woodland is one of our daily Nature in our Neighbourhood features, on Friday 11 December (and visit it for yourself!).
Read more about The Tree Council here: https://treecouncil.org.uk/