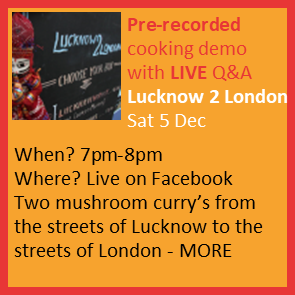 Mushroom Curry x 2 with Lucknow 2 London
We cannot pretend the mushrooms were foraged, but - we hope you get the idea!
The festival is delighted to host Nida and Saher from local business Lucknow 2 London for todays cooking demo. They will be cooking two different mushroom currys, and also answering your questions. Watch the live-stream on the Norwood Forum Facebook page here: www.facebook.com/TheNorwoodForum 
You DON'T need a Facebook account to watch the live-stream.
Send in your questions in advance to: info@norwoodforumorg.
You can also write questions in the Comments box during the live-stream (you DO need a Facebook account for this).
Local business Lucknow 2 London is all about: 'Smashing British grub with real Indian flavour from the streets of Lucknow to the streets of London.'
'We are two sisters crazy about Indian food. Our story begins in 1969 when our parents tied the knot and our mother came over to London. She bought with her, recipes steeped in a Lucknawi home kitchen. Growing up in a Lucknowan home kitchen where our parents hosted dinner parties and our guests always came back for more. We realised early on that there was something special about our mother's food. Taking the amazing wealth of knowledge and experience of our supercook mother, in 2016, we decided to take this to the streets of London trading at markets and festivals, that's how Lucknow2London our Indian Street Food business was born. Cooking-up North Indian food which is authentic and always using local fresh produce e.g. potatoes, cauliflowers and turnips, spicing up very British vegetables.
Lucknow is known as the City of the Nawabs. A Nawab was a native governor during the time of the Moghul Empire in Lucknow. Nawab's love of food led to the royal chefs to muster up exquisite culinary spreads. Once a platter for the who's who of the society has now turned into a favourite for the people in India. Yet this cuisine is not easy to find in the UK. Lucknowan cuisine is refined, aromatic, aesthetically created and above all delicious. Our mother is our head chef. She does her magic and under her guidance we recreate the nawabi platter in our catering orders. We have catered for numerous events – private, corporate and a wedding reception too!'
Find out more about Lucknow 2 London:
Website: lucknow2london.com/
Facebook: www.facebook.com/Lucknow2London/
Twitter: twitter.com/lucknow2london?lang=en
Instagram: www.instagram.com/lucknow2london/