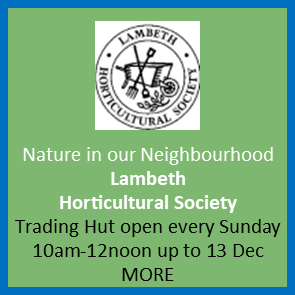 Lambeth Horticultural Society
Trading Hut - open every Sunday 10am-12noon up to and including Sunday 13 December
Are you planning some festive floral decorations? 
Why not go along and see what the Lambeth Horticultural Society has in stock at its Trading Hut in West Norwood? 
The Hut is well stocked with spring bulbs, composts, tools, garden sundries and some seasonal goods (all at keen prices) and is open on Sundays from 10 to 12 noon, up to and including 13 December. They also dispense free gardening advice, useful for anyone who's using lockdown to work on their garden! The Hut is a facility for members, but prospective members are welcome to shop with us once before they join. For details of the Hut's location and how to join, see their website - www.lambethhorticulturalsociety.org.uk/the-hut/ 
The Lambeth Horticultural Society was established in 1951 and aims to promote horticulture by organising talks on gardening topics and flower shows in Spring and Summer and at the Lambeth Country Show, running coach trips to important gardens in the South of England and publishing a newsletter. New members are always very welcome.
Find out more:
Website: www.lambethhorticulturalsociety.org.uk/
Facebook: www.facebook.com/LambethHortUK/