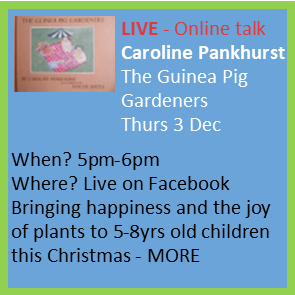 The Guinea Pig Gardeners, Caroline Pankhurst
Suitable for children 5-8yrs old
When: Thursday 3 December
Time: 5pm - approx 6pm
Where: This will be livestreamed on our Facebook page. There is no need to have a Facebook account to view.
Link to Facebook: www.facebook.com/TheNorwoodForum
Ask questions in advance here: info@norwoodforum.org
Ask questions during the talk: use the Comments box on Facebook (only available if you have an account)
Caroline Pankhurst, Education & Project Manager at the South London Botanical Institute, and Maude Smith, artist and SLBI volunteer, have just published a children's book together. The book is called 'The Guinea Pig Gardeners' and aims to provide a work of fiction for 5-8 year olds that not only offers engaging characters, an adventurous story and beautiful illustrations, but also introduces children to the joys of gardening and to the environmental needs of our time – to look after the nature that surrounds us.
The story is about a family of guinea pigs who enjoy gardening. They grow their own food, plant flowers for the bees, drink mint tea and engage the help of a squirrel who can get into bird feeders. Many of the characters have plant names, and older readers or parents can enjoy botanical references to Rosemary the Rabbit having a good memory (as use of the rosemary plant gives this benefit) and the evil slug and snail being called Bella & Donna (Belladonna being the botanical name for Deadly Nightshade).
Caroline's ideas and motivation for the story came not only from her work for the SLBI but also as Horticultural Therapist at Thrive and former volunteer with children in the gardens of National Trust Ham House:
'I really want to help educate children in environmental matters and have used practical gardening ideas in my story that I know children enjoy. I was inspired by my friends' guinea pigs and all the squirrels I see doing acrobatics on bird feeders.'
Caroline met Maude at the SLBI, where she was amazed by her artwork for children's activities there, including a huge mural on the wall. She asked Maude if she'd like to illustrate the 'Guinea Pig Gardeners' and their joint venture finally reached publication during lockdown this summer.
The Guinea Pig Gardeners are hoping to bring happiness and the joy of plants to lots of children this Christmas.
Books cost £10 (+ p&p if needed) and can be ordered by contacting Caroline on guineapiggardeners@gmail.com.
Three copies of The Guinea Pig Gardeners will be 'set free' into the neighbourhood for you to find and enjoy soon after Carolines talk.