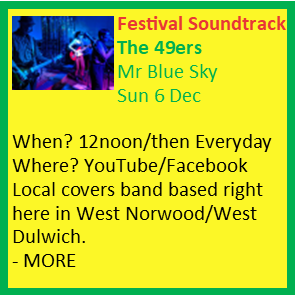 The 49ers - Mr Blue Sky
The 49ers are a local covers band based right here in West Norwood/West Dulwich. We play new wave, punk and ska classics of our youth for your noisy entertainment. In the old world, we were regulars at Feast & The Portico, as well as playing at private parties in venues around South London.
To keep ourselves gainfully occupied during lockdown, half the band have been keeping the musical flame alive with a series of 'Songs in Isolation', where we each record tracks at home & Dave (the techie one) mixes them together. We've dragged our long-suffering families into helping us put videos together to accompany some of the songs. Most of these have been ably edited by our 'cameo member', the man behind the camera at LampreyVideo.
Find out more about the 49ers here:
Website: www.the49ers.co.uk/
Facebook: www.facebook.com/The49ersBand/
Find other 'Songs in Isolation', along with a selection of live videos at our YouTube channel, here:
www.youtube.com/channel/UCc5h_B7YYtdfW6xlB6wnTVA/featured