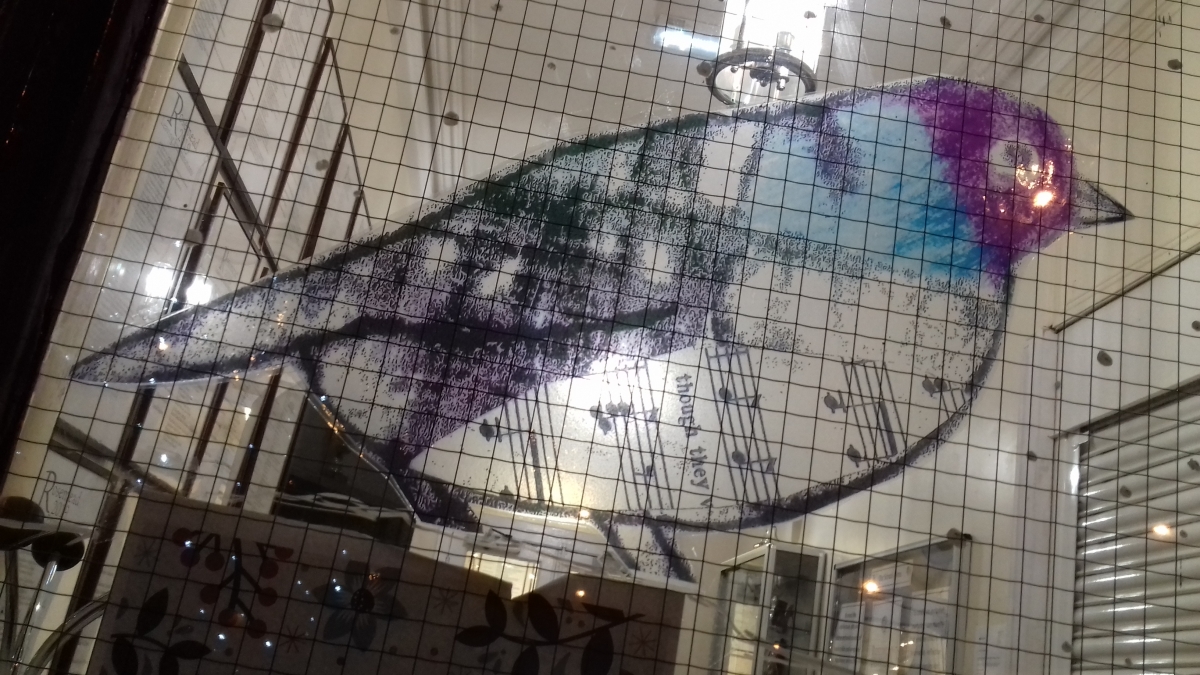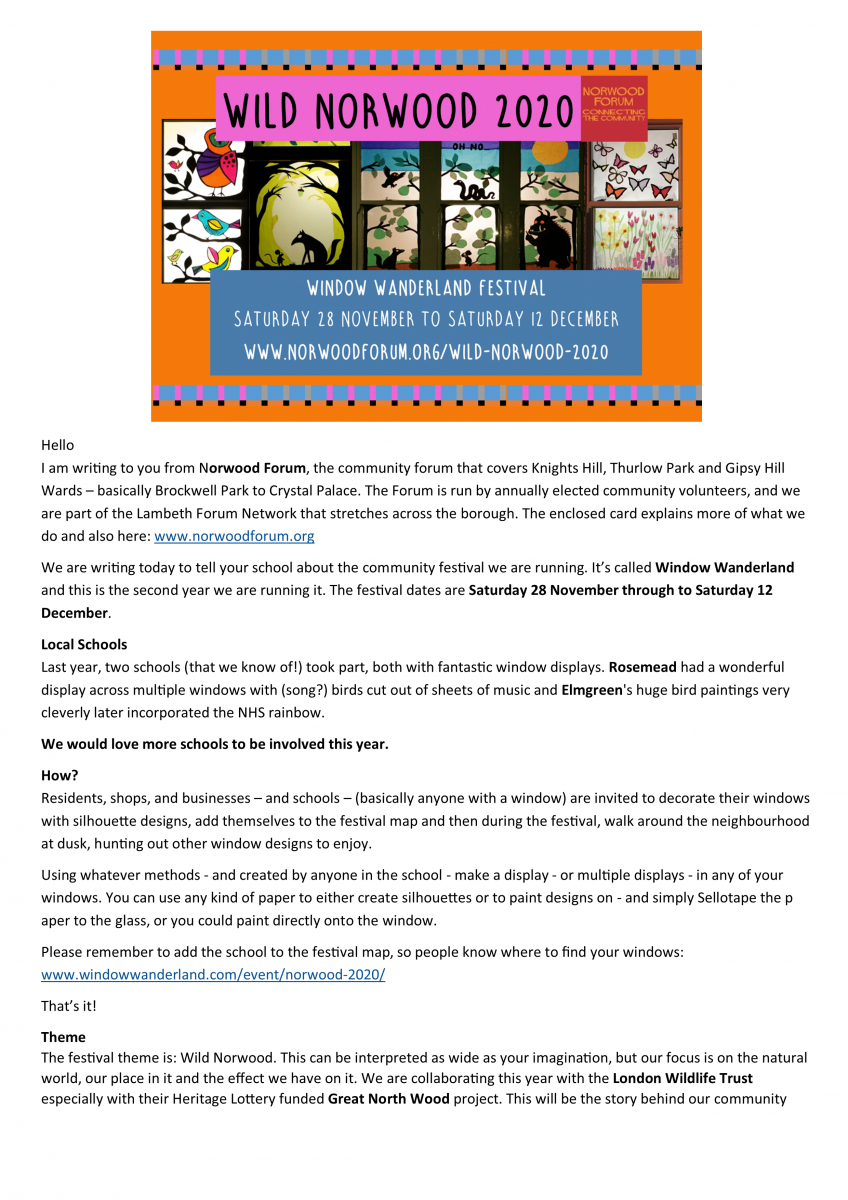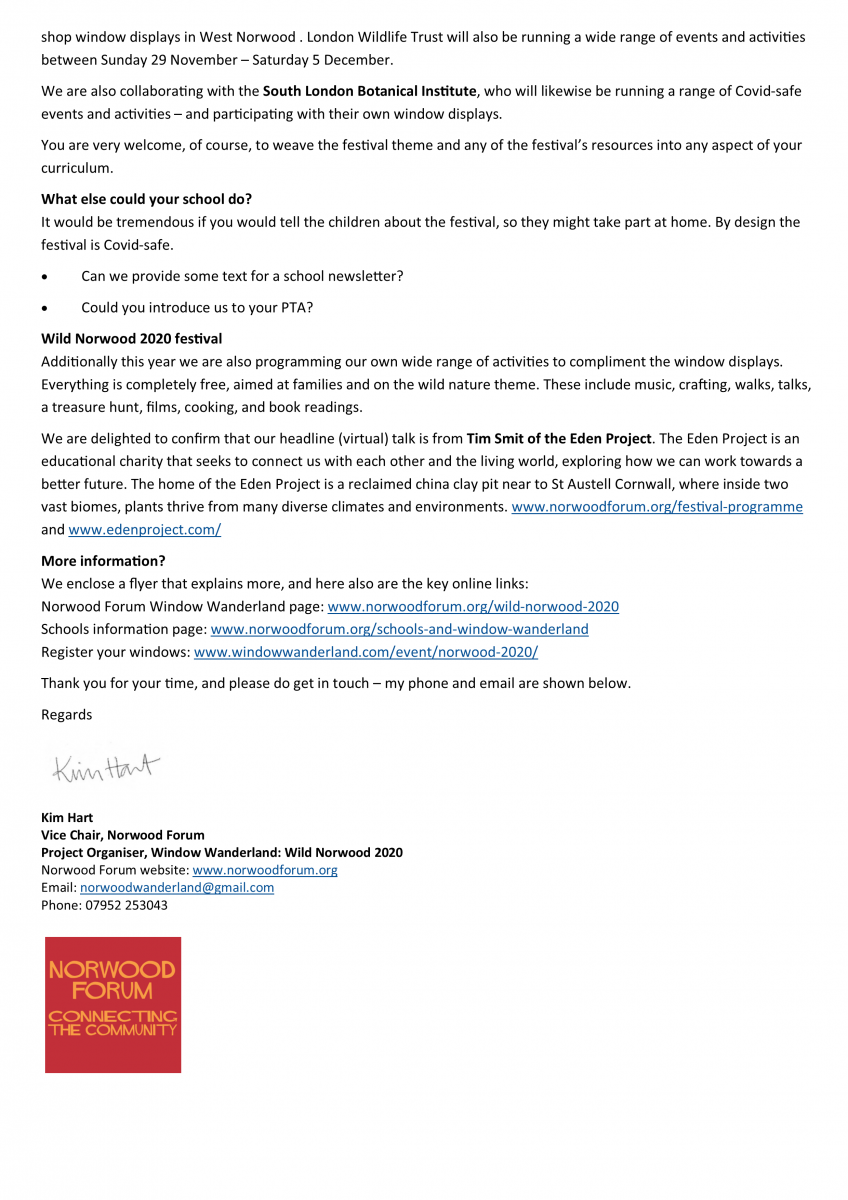 Invitation lo participate letter to all schools - click to access readable version.
Last year, our first, two schools (that we know of!) took part, both with fantastic window displays.
Rosemead had a wonderful display across multiple windows with (song?) birds cut out of sheets of music and Elmgreen's huge bird paintings very cleverly later incorporated the NHS rainbow.
We would love more schools to be involved this year.
Covid-19
Let's deal with this important issue first of all. Window Wanderland fortunately is covid-safe without having to make any changes. Simply, people make their own designs and display them in their own windows. Armed with the festival map, you then walk around your neighbourhood at dusk hunting out other window displays. There is no gathering in groups beyond your household, or any timetable to comply with - expect the festival which is Saturday 28 November - Saturday 12 December. Most people kept their displays up throughout the holiday period (and three shops in Norwood Road still have theirs from 2019 on display!). In exactly the same way, a school can take part.
How?
Using whatever methods, and created by anyone in the school - make a display - or multiple displays - in any of your windows. The idea is that they can be seen at dusk as the lights in the room illuminate them. You can use any kind of paper to either create silhouettes or to paint designs on - and simply sellotape the paper to the glass, or you could paint directly onto the window. Both versions were used by Rosemead and Elmgreen.
Once you have decided to take part, please remember to add the school to the festival map so people know where to find your windows: www.windowwanderland.com/event/norwood-2020/
That's it.
Theme
The theme for this year's festival is Wild - wild nature, the environment, the great big outdoors - and you can interpret this in any way you wish. The story behind our community window displays (in shops and businesses along Norwood Road, Norwood High Street, and Knights Hill - ending in a large display in the windows of Picturehouse) is The Great North Wood. This was once a spralling ancient wood covering much of South London, and remnants can still be found in West Norwood Cemetery, Norwood Park and Knights Hill Wood - and the name lives on in districts such as Norwood, Gipsy Hill, Forest Hill and Penge ('edge of wood').
London Wildlife Trust (LWT)
We are collaborating with the LWT who have a long running, Heritage Lottery funded, Great North Wood project, and they will be delivering a week of activities both online and on site between Sunday 29 November – Saturday 5 December. Activities will include self-guided walks about the Great North Wood, as well as online workshops and presentations. There will also be a competition with some great prizes. For more information please visit the London Wildlife Trust Great North Wood webpage: www.wildlondon.org.uk/great-north-wood from mid-November for more information. It will also be included on our Festival Programme page.
South London Botanical Institute (SLBI)
We are also collaborating with SLBI who are planning a further range of events and activities, including self-guided walks, a planting session, a workshop and their annual Glowing Garden 10-12 December (restrictions permitting). Again all of their events will be free, family friendly, and will feature on our Festival Programme page.
Wild Norwood 2020 Festival
As well as the window displays, this year we are also programming a wide range of other events and activities. These include self-guided walks, a treasure hunt, book readings and music, films and crafting projects, cooking demos using foraged food (well mushrooms bought from a shop - but you get the idea!) and competitions - and lots more. Everything has a wild theme - and will be about nature and the environment - basically the joy and delight to be found outdoors - even in winter.
What else could a school do?
You are very welcome, of course, to weave the festival into any aspect of your curriculum.
It would tremendous if you would tell the children about the festival, so they might take part at home.
Can we provide some text for a school newsletter?
Could you introduce us to your PTA?
Any questions?
We know every school is under tremendous pressure, especially at the moment - but if you can spare a few minutes to email us norwoodwanderland@gmail.com - please let us know if there is anything we can do to help you take part - can we help you with more resources? or even just add you to the festival map? More information on the festival programme will be added over the coming week. Our festival headline (virtual) speaker is Tim Smit from the Eden Project.
Wild Norwood - it's right outside your door!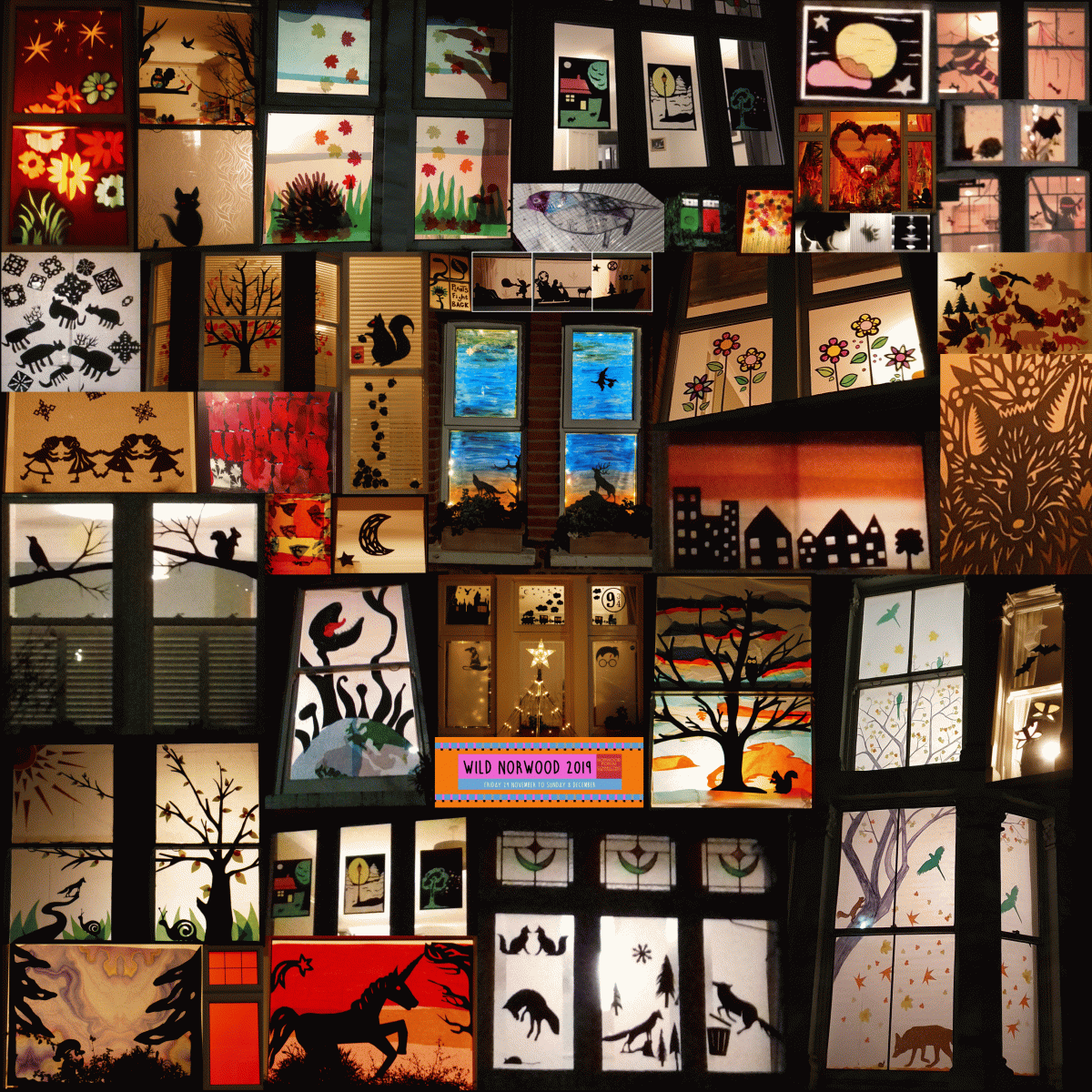 Inspiration from Wild Norwood 2019