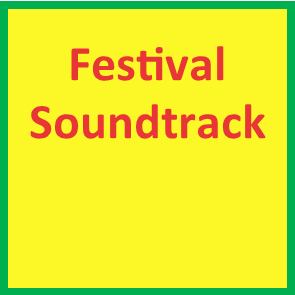 Wild Norwood 2020 comes with its own soundtrack. 
Featuring many local and South London based musicians, each track relates to our nature theme and was compiled with the enormous help of Gerry Lyseight, who many of you will know from his fantastic Mambista nights at Portico Gallery. (Long may we return to those heady days of dancing till dawn).
We hope they showcase some music and musicians you might not have heard of before, and that in the festival spirit you'll give them a listen. All of our LIVE evening events will play the track of the day, but you can hear them all right here:
Sat 28 Nov - Lisa Knapp, Psithurism 
As a local musician, Lisa has her own festival page, find out more about this peice of music and about Lisa here, including where to find more of her music.
Sun 29 Nov - The Unthanks - Magpie 
Northumberland's gift to the world. Taken from their wonderful "Mount The Air" album. You may know "Magpie" from BBC's delightful Detectorists series.
Mon 30 Nov - Lonnie Liston Smith - Summer Days 
From the 1975 "Expansions" album - also to be found on 2020's "Martin Freeman And Eddie Piller Present Jazz On The Corner Two" on the Acid Jazz label.
Tues 1 Dec - Tina Longford - White Speck
As a local musician, Tina has her own festival page, find out more about Tina here.
Wed 2 Dec - Cosmo Sheldrake – Cuckoo Song 
Gorgeous! Taken from his 2020 album, "Wake Up Calls", which was created over a nine year period, using recordings of bird song featured on the red and amber lists of endangered British birds (with the exception of a Robin and a Blackbird, which aren't endangered – yet).
Thurs 3 Dec - Hugh Masekela - Grazing In The Grass 
AKA The Father Of South African Jazz, Hugh Masekela excelled in many musical genres as well as being a formidable anti-apartheid activist. Grazing In The Grass was a pop hit for him in 1968.
Fri 4 Dec - Sam Robson - Circle of Life
As a local musician, Sam has his own fesival page, find out more about Sam here, including where to find more of his music.
Sat 5 Dec - Maren Morris – Better Than We Found It 
Young Texas-born singer/songwriter of the Country music persuasion, singing about leaving the world better than she found it, in terms of both race relations and the environment.
Sun 6 Dec - The 49ers - Mr Blue Sky
As a local band, The 49ers have their own festival page, find out more about The 49ers here, including where to find more of their music.
Mon 7 Dec - Floating Points - Last Bloom 
Last Bloom is taken from Sam Shepherd, aka Floating Points, "Crush" released via South London's Ninja Tune label.
Tues 8 Dec - Kansas Smitty's - Sunnyland 
Kansas Smitty's House Band is London-based and specialises in original jazz. The band run their own bar and HQ on Broadway Market in Hackney.
Wed 9 Dec - David Bowie – Nature Boy 
Local (Brixton/Bromley) boy done good. From the Moulin Rouge soundtrack and originally sung by Nat 'King' Cole.
Thurs 10 Dec - The Effras - Down in the Effra
As a local band, The Effras have their own festival page, find our more about The Effras here, including where to find more of their music.
Fri 11 Dec - Soothsayers – Rat Race 
The new single from their 9th album, "We Are Many", on Wah Wah 45s (available at Bandcamp.com). Soothsayers have become something of a South London musical institution over the course of a twenty year career. They are big fans of Mambista and The Portico Gallery and the feeling is mutual.
Sat 12 Dec - Geraint Watkins – Hold Back  
Legendary singer/songwriter and multi-instrumentalist from his 2019 release "Rush Of Blood". Produced by Basement Jaxx' Simon Ratcliffe and featuring local blues hero, Little George Sueref on harmonica and double bass.
BONUS TRACK
Sun 13 Dec - Nérija - Riverfest 
From their "Blume" album. One of the front runners in the new 'London Jazz Scene' and featuring the likes of Cassie Kinoshie, Nubya Garcia and Shirley Tetteh. Nérija played at a memorable Mambista night at The Portico Gallery celebrating International Women's Day in 2017.
Massive festival thanks to Gerry Lyseight for compiling our soundtrack, and writing the notes too.
Gerry is a long-standing force in London's Latin, African and Jazz scenes, as DJ, promoter, record compiler and radio presenter - he's also the co-founder of Brixton's legendary and much-missed Mambo Inn. Gerry hosts Mambista and El Swing at The Portico Gallery and presents radio shows (available at mixcloud.com) for Phonic FM and Totally Wired Radio.